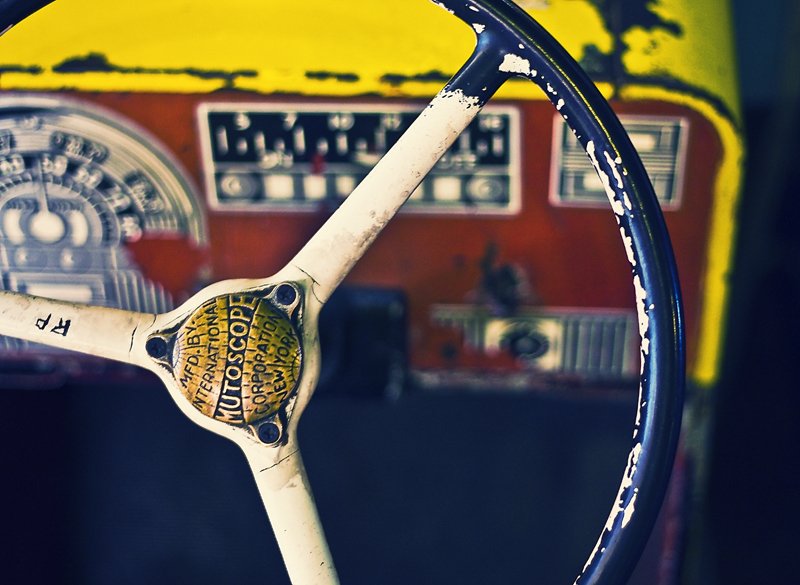 "Aspen?" a lady in a United uniform called. "Who's going to Aspen?"
About 20 people raised their hands, including a lady with a pinched face and a ginormous fox stole. She must not have gotten the PETA memo.
The group gathered around the harried-looking employee.
"We're arranging a bus to take you to Aspen. In this weather, it will be about a 5-hour drive. But we'll get you there."
Pinched-face lady huffed and slid back into her place in the long flight customer service line.
After 5 minutes, the United employee sidled up to the pinched-face lady. "If you want to go to Aspen, this bus is probably your only option. All flights so far today have been canceled, and the weather's only going to get worse."
"I'm NOT taking a bus," pinched-face lady huffed.
The counter attendant called out, completely oblivious to the snobbery, "You really want to do this. It's a beautiful drive. It will be even more beautiful in the snow. You'll never forget this."
Pinched-face lady responded, "I don't think you understand what I'm saying. I will never, in a million years, take a bus. I WILL NOT TAKE THE BUS."
(What is an airplane, ladies and gentlemen, if not a bus that flies and squishes you between a businessman with a laptop and a sharp elbow and an old lady who snores?)
"You'll be stuck here for the rest of the day and probably all night, ma'am."
"I will take my chances. Anything is better than that disgusting suggestion."
Nearby, a group of Aspen bus-goers were introducing themselves to each other. They were taking pictures already. Laughing. Joking. Meeting.
The pinched-face lady, however, was standing lonely, at the front of the desk, grumbling about her life.
Do Biases Keep You Down?
The above story took place the other day when I was at the Denver airport.
It's been bugging me ever since.
See, I used to be a huge snob. Eat at that ratty Mexican dive? UGH. Are you kidding me? Buy clothes at TARGET? NOTONYOURLIFE. Be caught dead with HIM? Only if he's buying the drinks and sits at a different table.
It wasn't pretty. Biases … snobbery … snottiness. All that went out fashion with the grunge movement, didn't it?
But biases can come in small packages. They're often tiny hidden emotional tumors that keep you from fully experiencing the opportunities around you.
Like eating tomatoes.
For the majority of my adult life, I told myself I hated tomatoes. Because my dad told me I hated tomatoes.
Then, one day last year I tried a tomato. Raw. With salt.
The heavens opened and my taste buds whipped me for depriving them for all these years. It was lingual abuse. A real tongue lashing.
Or the food-on-your-face thing, right? It's uncanny. Every time I visit a forum where a post here is mentioned, one of the responses (EVERY time) goes something like this: Ew. Like I'm going to put that in my hair/on my face/near my perfectly coiffed and manicured being. Sounds disgusting. Also, Taylor Lautner is hawt. OMG.
In the meantime, the rest of the forum-readers are slathering cocoa powder and honey on their face and in their hair, sharing the silly but fulfilling experience with one another.
Now, I know none of that applies to you courageous, open-minded lovelies, but I bet you can look at your life and find somewhere that you're still holding on to some sort of bias that keeps you from fully experiencing life the way you could.
What do you say "no" to because you've decided it's gross, or beneath you, or not worthy of your attention? Better yet, WHO do you say no to?
Kick Your Biases to the Curb
I'm not suggesting that everyone stop following their intuition and just do everything the universe throws at them. I mean, I've seen Yes Man. I know what happens when you say yes to snorting Tabasco sauce.
But I think we can all agree that there are things we've said no to, or friendships we've missed out on, because we're a little biased.
I challenge you to monitor yourself until Sunday for times when you say no to an opportunity because of this – and then choose to say "yes."
In fact, here's one better, if you so choose it. It's the ONE thing that received the most OMG-that's-gross backlash from Crunchy Betty.
Put molasses or maple syrup in your hair.
I'm talking simple, effective, and it makes your hair softer and shinier than you could ever believe. (Skip this, though, if you're no 'poo … not sure if it would ever come out!)
Here's how: Slather a bunch of maple syrup or molasses in your dry hair. Wrap your head with plastic wrap (please don't cover your nose and mouth). Let it sit there for 30 minutes or an hour (or more, if you have time). Take a shower and wash it out.
And, hey.
Even if you choose not to put anything gooey in your hair, please don't ever be a pinched-face lady.
If the universe delivers you a bus, take it.
The view is beautiful.
—
Off the top of your head, can you think of any time you've tried something, despite the fact that you'd had some sort of snobbery or negative feelings toward it, and it turned out to be an eye- and mind-opening experience?
What about a friendship? Was there someone in your life who turned out to be a great friend, even though – at first – you were really put off by something about them?
Share! Share!