Lusty: full of or characterized by a healthy vigor. (Her lusty complexion bathed him in a radiant energy, and under her gaze he felt kissed by the sun.)
Lust: intense sexual desire or appetite; ardent enthusiasm, zest, or relish. (He felt a deep lust for life, with one look at her lusty complexion, and lusted lustfully for her lusty haunches. Lust.)
You want lusty? You want lusty lust that courses through your veins and pours through your pores like warm summer's day?
Then you want maca root powder. Oh yeah, baby. You want it.
We're just going to talk quickly about maca powder, what it is and what it does, today. It's been my favorite little occasional supplement over the last couple of months, but even more recently I've discovered what it can do for your skin.
So, a quick overview of maca root powder and then a recipe you can try in the romantic glow of your very own bathroom. Your bathroom IS romantic, isn't it? Nothing says love like a toilet in the corner.
Maca Root – Vitality Fit For an Incan God
The Incans relied on the maca root to give them health, vitality, and what one could only assume was an otherworldly libido. A lusty group, those Incans.
To this day, maca root is still grown high in the Andes, and recently it's received a good deal of attention for its ability to talk your body into balancing its hormones, while it boosts energy and delivers a whole host of vital nutrients.
Some people call it a super food.
I call it "earlier this afternoon I was tired, but now I'm ready to conquer the world."
Maca root is actually in the same family as cabbage and broccoli, but they taste nothing alike. Maca is almost malty in flavor, and it adds a delicious depth to my green smoothies (which is how I usually consume it).
It's what's called an "adaptogen," which means it boosts your body's ability to heal, adapt to stress and new situations, and is beneficial for your all-around physical well being. And while it contains no phytoestrogens or other hormonal properties, it has a unique ability to lure your body into regulating its own hormones in healthy ways. It's chock full of trace minerals and vitamins like B6, niacin, riboflavin, and vitamin C. (Total nutritional information here.)
It boasts nicknames like "Peruvian Ginseng" and "Peru's Natural Viagra," just to give you an idea of what it can do (ahem, energy and … uh … yeah.)
It doesn't just help men, though. Maca doesn't discriminate when it comes to talking both men and women's endocrine systems into balancing hormones. Women use it to boost libido, ease the symptoms of menopause, enhance fertility, and (you'll never believe this) slightly expand the size of their breasts and rears to achieve a more hourglass look. If you're afraid that maca will make you fat, though, there's some evidence to suggest maca actually helps you lose weight in the areas where you might need to (like your stomach), as it helps boost metabolism.
This is an uneducated guess, and quite possibly completely incorrect, but I'd imagine that by balancing the hormones, it encourages the body to "fill out and reshape" in womanly ways. Let it be known, however, that I'm not suggesting this is some super reshaper for your figure. There is still no magic pill. I don't take it regularly, so I can't speak personally to boobgrowth (this should one word, and in the dictionary).
And, as with all things, you should moderate your use of maca, as too much/too soon/too often could tax your adrenal glands, lead to insomnia, or give you more buzz than you're looking for.
As for where you can buy it? Amazon, of course, Mountain Rose Herbs, and Vitacost all sell it, and you can find it in just about any natural foods store these days.
We're not going to talk much more about the internal health benefits of maca, so if you want to learn, here are a few more discussions about it:
Maca and Your Radiant Complexion
Okay. THIS is the part I'm really overwhelmingly excited about. I get TONS of emails asking me what to do about hormonal breakouts and acne. Doesn't it sound like maca may help a bit? Maybe? (You have to decide. I'm just sayin'.)
Plus. Maca, used topically as a mask or in a scrub, has given my skin new life, lustiness (yep), and vigor. I've been using it for about two weeks as a scrub ingredient, but I've also done two or three facial masks with it. It's not as softening as some other mask or scrub ingredients. It's more about giving strength, clarity, and vigor.
Not many studies have been done as of yet on the use of maca root topically (though there's a maca product supplier who states that their studies showed it structurally enhanced the firmness of skin and boosted its inherent protective abilities), but skincare companies are starting to catch on and offer maca products in many forms. We're getting the jump on them here, though, with this easy, firming, lusty facial mask.
MAKE A MACA-CHACA FACIAL MASK
So here's what I love about all of this: I order a bag of maca powder, and then I take a teaspoon in a smoothie when I need an extra energy zing, and use it on my skin whenever I feel like it's begging for a boost of (lusty) radiance.
This mask uses only four ingredients: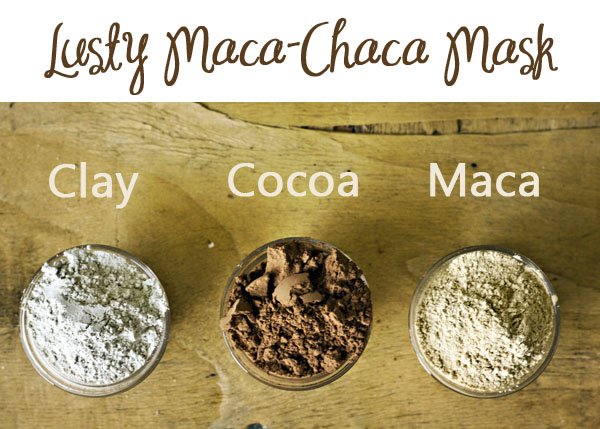 The fourth ingredient is a liquid of some sort. Full-fat milk is my preferred for extra moisturizing or softening, but you could also use apple cider vinegar (which will be clearing and astringent), water, almond milk, or even a freshly squeezed fruit juice like apple, orange, or even a diluted-with-water lemon juice.
First, you dump all your dry ingredients in a bowl. A bigger bowl than the one I've shown. It's hard to stir up a mask in a tiny bowl.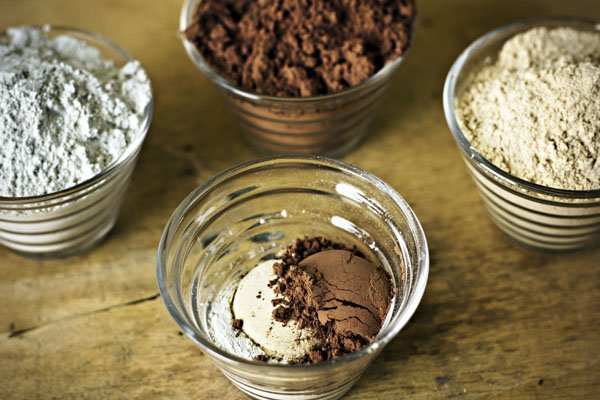 You're using 1/2 Tbsp bentonite or other cosmetic clay, 1/2 tsp maca powder, and 1/2 tsp cocoa powder. Please use pure, unsweetened cocoa powder. Do not attempt to put Nestle Quik on your face. Unless … no. No unless. Just don't.
Now add 1-2 Tbsp of your liquid of choice. My choice is whole milk.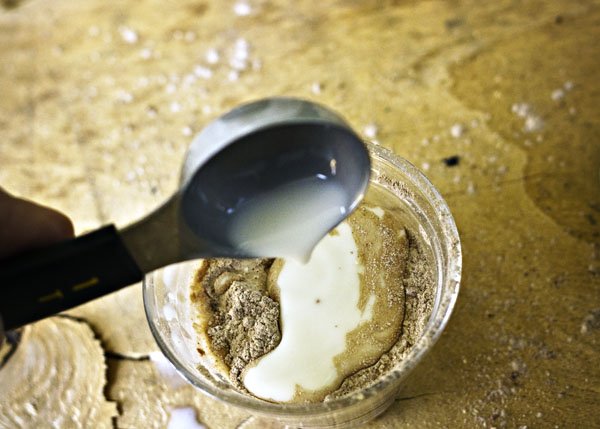 Of note, I get many questions about my insistence on using full-fat milk. I do that because it's healthier, all around. Non- and low-fat milks not only don't contain the same skin-beautifying properties, they're just not good for you. Outside of raw milk, you'll get the best bang for your buck from organic, gently pasteurized, whole milk. But if you want to try skim or non-fat milk, go right ahead. I'm just telling you that you'll be happier with the results if you use full-fat. So. There you go.
Back to the mask. You have to stir well and quick, or the mask will set up before you know it. The consistency you're aiming for is akin to pudding. Light, creamy chocolate pudding.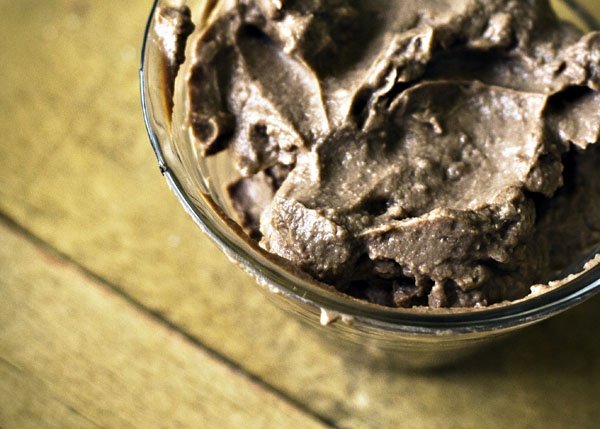 Spread a thin layer all over your (non-makeup-ed) clean face and leave it on until it dries, about 15-20 minutes. Remove by placing a warm washcloth over your face and letting the mask soften. Then, you can just wipe it off with the washcloth and rinse your face completely.
Done.
Radiant.
One might even say …
…
Lusty.
(You knew I was going there.)
—
Now you know maca powder. Your significant other will be glad you know it, too. Rrrrrowr.