What? WHAT? Yes. This is really happening.
Crunchy Betty now has a Natural Market Store on Etsy, where you'll be able to pick up some of the end products of recipes you've seen here on Crunchy Betty. Let's not make too big of a deal about it, though; I'm just giving it a few trial months to see how it goes. I'll give you the insider story here in a minute (ooooh … insider.)
To kick off the store, I thought we'd celebrate by offering you an extra amazing just here through the site (before we get into having to deal with Etsy charges and other major expenses). So, on a very limited basis, you can pick up one of three exclusive Crunchy Betty cleansing grains HERE on the site for a major discount over what they'll cost at the store in the future.
On the Etsy store, they're $16-16.50 plus $4.50 shipping (if you're in the U.S.) – but right now, on the site, they're only $15 total, including shipping, if you're in the U.S. (Outside the U.S. and want some? Hit me up with an email at [email protected] and we'll discuss shipping prices.)
You'll see a few "buy now" buttons throughout the post, so be sure to use 'em if you feel the urge.

What's up for grabs today, and for as long as they last, are 4-oz packages of the new Crunchy Betty cleansing grains – one for dry/sensitive skin, one for normal to dull skin, and one for oily/acne/problematic skin.
As of right now, there are only 50 of each kind of grains available (total of 150 cleansing grain orders). My plan is to cut off ordering after the 150 are gone, because that's all the ingredients I have on hand. I might consider extending this, though, if we have an overabundance of orders and the "later" people are willing to wait an extra week or so.
But that's a big if. So, if you want one, don't dilly-dally. They'll go fast.
Each order of cleansing grains is a 4-oz size, packaged in a biodegradable/compostable cellophane bag – and it comes with a recipe you can use to create the SAME cleansing grains at home, if you want to!
Because, above all else – beyond any store or product or profit – I want y'all to be able to take your skincare into your own hands with your own experiments, if you desire.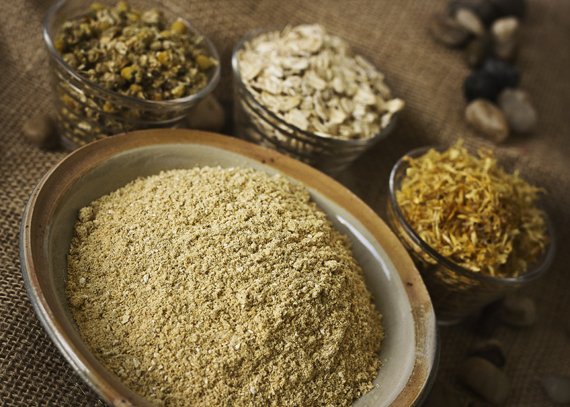 You will, though, want to transfer the cleansing grains to your own glass container (what better reuse for those glass peanut butter jars?), for easier use, better storage, and protection from water. They'll also come with a little card explaining how to use them, by the way, along with instructions on how to turn them into facial masks, as well. (Simple. Simple. Simple.)
But here's how to use them in a nutshell: You harness the power of healing foods like oats, white rice flour, and almond meal, along with treating your skin with tailored herbs, oils, and other ingredients by using cleansing grains as a gentle, natural facial scrub during times you're not wearing makeup. They're WONDERFUL for your morning facial cleansing regimen. And each 4-oz bag equals right around 88 daily cleanses.
Here are the deets on the three types of cleansing grains:
It's Tamanu Thyme Cleansing Grains for Oily or Problematic Skin
These grains are designed for those of you with issues with oily skin and breakouts. It's quite clarifying, but it's also healing and calming, for redness and big red ouchie pimples.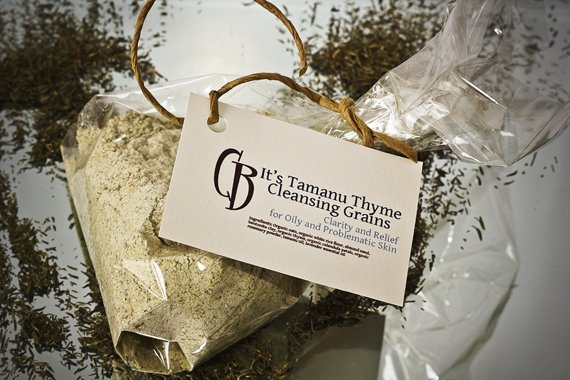 Ingredients in It's Tamanu Thyme Cleansing Grains: Oats, white rice flour, almond meal, bentonite clay, thyme, rosemary, calendula petals, tamanu oil, lavender essential oil.
You can read more about what each ingredient does for your skin at the Crunchy Betty Natural Market page, but just as a reminder of the two star ingredients, remember tamanu oil for healing acne and blemishes? And thyme for clearing your skin?
Yeah. GREAT stuff.
Here's your handy shop now button – be sure to select "It's Tamanu Thyme" cleansing grains in the drop down menu, if this is the order you want (and, yes, you're allowed to order more than one).
You Maca Me Glow Cleansing Grains for Normal to Dull Skin
Yeah. I had to post about maca before I announced the store, because you really needed to know how cool it was first.
These cleansing grains have everything your normal to dull skin needs to shine with radiance and nourished health.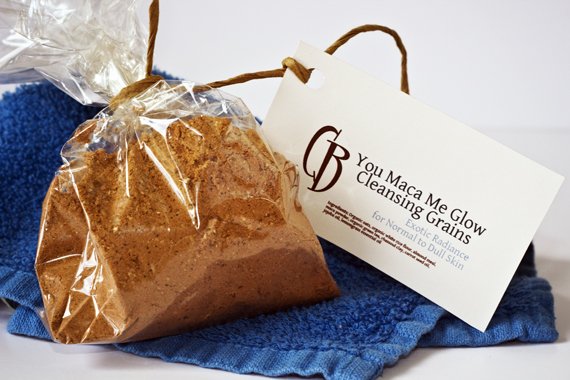 Ingredients in You Maca Me Glow Cleansing Grains: Oats, white rice flour, almond meal, rhassoul (Moroccan red) clay, maca root powder, green tea powder, jojoba oil, carrot seed oil, lemongrass essential oil.
And you can read more about each of the ingredients at this page on the Crunchy Betty Natural Market.
Otherwise, here's the button again!
The Crunchy Betty Cleansing Grains Special is SOLD OUT, but you can still get yours at the Crunchy Betty Natural Market!
(Remember, that's $15 total, with no shipping charges if you live in the U.S.)
Milk and Petal Cleansing Grains for Dry or Sensitive Skin
There are, in fact, both milk and petals in these cleansing grains. They're moisturizing and gentle on dry and sensitive skin, as well as nourishing for aging skin.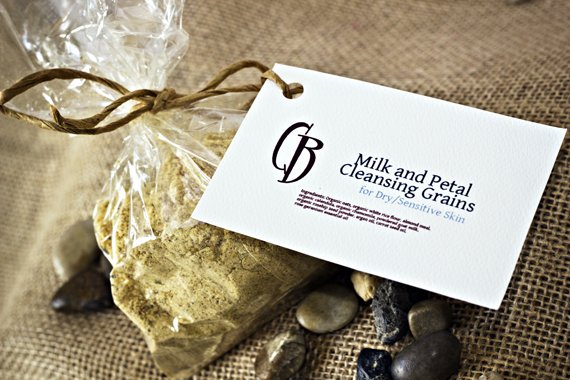 Ingredients in the Milk and Petal Cleansing Grains: Oats, white rice flour, almond meal, calendula petals, chamomile flowers, full-fat dried goat's milk, rosehip seed powder, argan oil, carrot seed oil, rose geranium essential oil
You can read more about each of the Milk and Petal Cleansing Grains at the product page in the Crunchy Betty Natural Market, iff'n you'd like.
But here's the checkout button you want to use if you desire the special Crunchy Betty Blog pricing:
The Crunchy Betty Cleansing Grains Special is SOLD OUT, but you can still get yours at the Crunchy Betty Natural Market!
A Little More About This Special
All cleansing grains are made to order, so they're as fresh as can be when they reach the final destination of your very own house. So, for this crazy special, the time table is this:
I'll take orders for 1 week. Cleansing grain orders will start to ship around the middle to end of next week, in the order they were received. All cleansing grain orders should be shipped by the 22nd, soon to be in your hot little hands.
If you miss out on this special, don't fret. These cleansing grains will be available in the Crunchy Betty Natural Market on Etsy for at least three months (or much longer, if the universe is willing).
Again, as of this moment, there are only 50 orders of each type of cleansing grains available. So get yer butt back up there to the ordering buttons and grab yourself some!
The Insider Story, If You're Curious
I know many of you have been with me through the 2-1/2 years that Crunchy Betty has been its quirky self. Some of you probably ordered the scrubs I sold on a limited basis wayyyyy back in the day, even.
And you might remember that I decided, quite some time ago, that I didn't want to sell product. My first love is writing. My second love is experimenting with natural beauty and household recipes. My third love is cheese.
Well, over these last 2-1/2 years, I've been bombarded by family, friends, and blog readers to sell stuff. No one quite understood how I had no desire to deal with the organizational aspect of doing so. Packing, shipping, and keeping inventory makes my brain feel like depressed mashed potatoes.
Well, the universe decided to step in and change things. At least for a while.
Not many days ago, after receiving my FIFTH email in a span of less than two weeks from people asking me to sell them scrubs (cleansing grains), I turned to Skip and said, "Ah. I feel so guilty every time I say no."
It just so happened, a week earlier, Skip had lost his job and was in the middle of a somewhat dejected job hunt. When I said this, he jumped off the couch (and if you know Skip, you know he doesn't jump often) and said, "HEY! Let me take care of all the stuff YOU don't want to do! Let me package, ship, and keep inventory. Let me manage a few things. We'll make this our own little family side business, only you'll get to handle only the parts you enjoy!"
And. This was born. Within days, it was becoming more real. And now it is.
I have to be honest, I'm still a little leery of all of it. I want NOTHING to take me away from writing and from keeping Crunchy Betty exactly as it has been. There are no plans to change a single thing about this blog, or make it spammy or geared toward selling product.
This is just a side venture, just to provide the things so many of you have asked for over the years.
In the process, I expect to provide only the absolute most natural, most effective, and most incredible products I know of – things I'm intimately familiar with, so I can help anyone who's interested become more familiar with natural beauty recipes, as well. And, to wit, every single order from the Crunchy Betty Natural Market will include a recipe on how to make the exact same thing at home.
Because my ultimate goal – my giant, all-encompassing dream – is that everyone in the world know their own ability to be the maker of their own health and happiness.
And there you have it.
That's the inside story about the birth of the Crunchy Betty Natural Market. And there WILL be more fun products coming soon. Very, very soon.
Now GO GET SOME GRAINS!
—
Also? I'm TOTALLY opening the comments up here for those of you who have any suggestions on what you'd like to see in the Crunchy Betty Natural Market? What's something you've seen on the blog that you haven't brought yourself to make? Something that you'd jump up and down to have a chance to try, first, before you delve into buying supplies and crafting in your kitchen?
I am here to serve.
Tell me what you want.