It seems like every couple of years, there's a new miracle fruit, antioxidant, oil, vegetable, nut, or cat.
(Not really the cat thing, except mine.)
Tamanu might have actually already had its heyday, but up until about 6 months ago, I'd never heard of it.
Most famously, I've read of many people who use it to help with their acne. And, pretty much across the board, the consensus is that it works.
Confession: Sometimes I get pimples on my cheeks still. And I pick them, unconsciously. And they turn into scabs. It's a horrible, horrible habit STOP JUDGING ME.
I've mostly used tamanu when I do those terrible, horrible, no good, very bad things. I can honestly say that the healing time seems drastically reduced. Where, maybe, it would've taken a week for one to heal, it's usually gone in three or four days.
BUT (tada!) that's not all it's useful for. Among other things, it's been scientifically shown to reduce the appearance of stretch marks (and I get TONS of emails asking about how to do that), it heals burns and wounds, soothes and heals insect bites, scabies, athlete's foot, chapped lips … the list really does go on and on and on.
What On EARTH is Tamanu Oil?
Tell me if I'm wrong: Tamanu kinda sounds like an animal, right? When I first read the word, I envisioned a lopsided sheep-goat animal that rolls around in the mud and bleats like a stretched-thin balloon stem.
It is not.
It's actually a beautiful flowering tree that blooms twice a year and produces fruit that taste similar to apples. In the middle of these fruits are seeds. Within the seed is the oil.
Extracting this oil sounds to be an arduous practice, as they have to climate-control the rooms in which they dry the seeds – and then wait patiently for them to secrete their incredible oily goodness.
The word "tamanu" originates from Tahiti, but they're called anything from "kamani" in Hawaii, to "dilo" in Fiji, to "Ballnut" in Australia.
Oh, you Aussies.
Tamanu oil is incredibly rich in fatty acids, and it's also full of compounds that science hasn't completely isolated yet. One thing that is known for sure is that it's highly antibacterial, antimicrobial, antifungal, and antioxidant.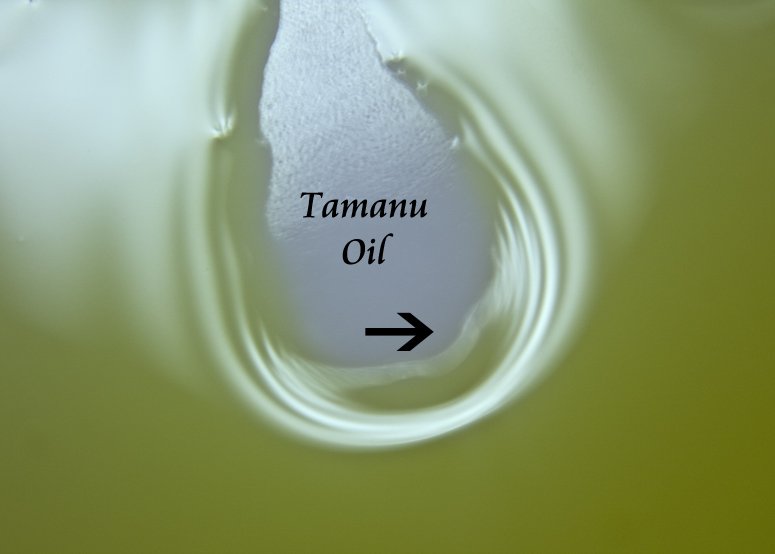 All over the world (but especially in the Southern portions), its sap, oil, and leaves are used to treat:
Psoriasis
Diabetic ulcers
Acne
Scarring
Athlete's foot
Scabies
Scrapes and cuts
Sunburns
Diaper rash
Sore throats (applied topically, even)
Joint aches and pains
And, seriously. The list still goes on from there.
But here's my new favorite thing to do with it.
Exfoliating, Healing Tamanu Oil Dry Scrub
Tamanu oil is really thick and slightly fragrant (like … green fruit), and it takes a while to sink all the way in. This makes it not the most attractive option – alone – as a facial moisturizer, at least if you're planning on doing anything in public for about 2 hours after applying it.
However, I do add it to my "kitchen-sink" facial oil mix that I use nightly. Once it's thinned out a bit, it goes on like a charm.
My favorite way to use it happens to be as more of a dry scrub.
You can use this scrub on your face (although not recommended for OPEN wounds … I use it once the healing process has started and there's no true broken skin left), on your stretch marks, or anywhere you want to exfoliate, encourage the tamanu to sink into your skin, and ultimately soften and heal.
How to Do the Tamanu Oil Dry Scrub:
Rub a thick-ish layer of tamanu oil over the skin you want to exfoliate. (Make sure your skin is clean, i.e. NO makeup.)
Massage for a minute or two.
Take a small handful of sugar into the palm of your hand, and very, very softly massage the sugar around on your skin.
Do this for 3-5 minutes.
Rinse the sugar off with water.
Left behind will be amazingly soft, glowing skin. It may still feel a tiny bit oily for a while, but it sinks in relatively quickly. Within 10-15 minutes.
Technically, you can use this method with any oil you'd like – especially olive.
I do feel like, though, since doing this weekly (for about three weeks), I've had far fewer issues with dry patches on the tops of my cheekbones and pimples on my cheeks.
Have You Used Tamanu Oil Before?
Are you way ahead of the curve and have known all about tamanu this whole time?
I'd love to hear your personal experience with it.
It's one of my new favorite oils; one I really don't know if I'll want to go without in the future.
Plus, it sounds like such a great medicine cabinet addition for burns and scrapes.
Almost makes me want to go skateboarding – just to test it out.
(Someone talk me out of this before I get hurt.)