Sorry for the alarming headline, but honestly, would you have paid attention if I'd said "Let's Talk About Water Preparedness." Probably not.
Because we kind of take our drinking water for granted. It's there, magically, with a flick of the wrist. And if we do lose it, it's only for a little while, and the pain and memory of its absence is easily washed away with a hot shower.
What if you woke up tomorrow, sleepily cranked your shower to hot, and nothing came out?
No big deal, right? At least, not for a day.
You can stink for a day and get away with it.
But what if you couldn't leave? And you had no water? And you were thirsty? And stuck. And thirsty. (Did I mention, you're thirsty?)
I've been wanting to talk about the importance of clean water, and being prepared with an extra reserve of it, for a while.
But the truth is, I'm only slightly prepared. So I couldn't talk about it. Because that would be kind of hypocritical.
Today, though, we woke up with no water.
And I learned my lesson. Albeit, a very brief one, but it was enough to make me realize what we've been doing right – and what we're probably NOT doing. Right.
See it started as what looked like a small earthquake at about 8:00 AM Sunday morning: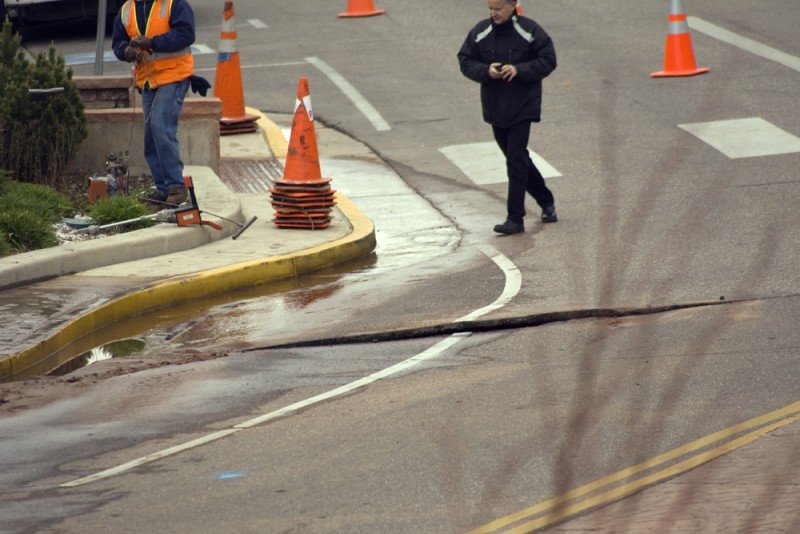 And at about 3:30, it turned into this (not an earthquake, a water main break):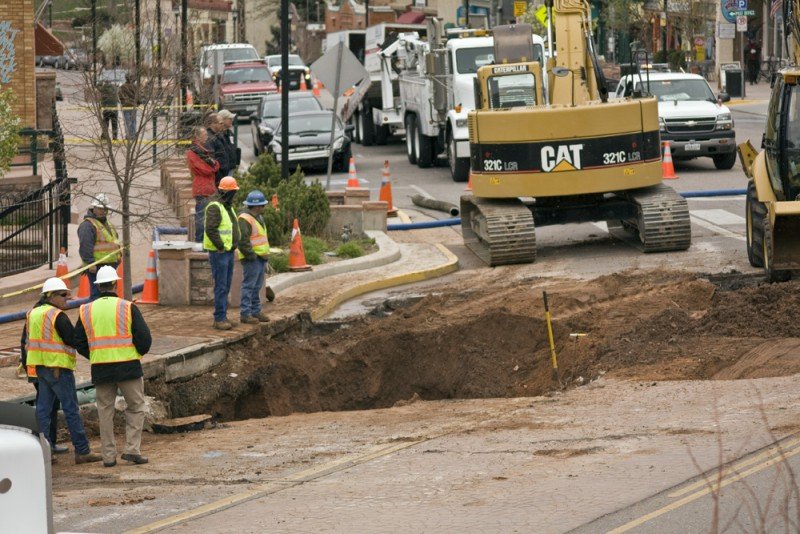 And here we are, at midnight (my head SCREAMING because of 16 hours of unrelenting noise) and it still looks like this: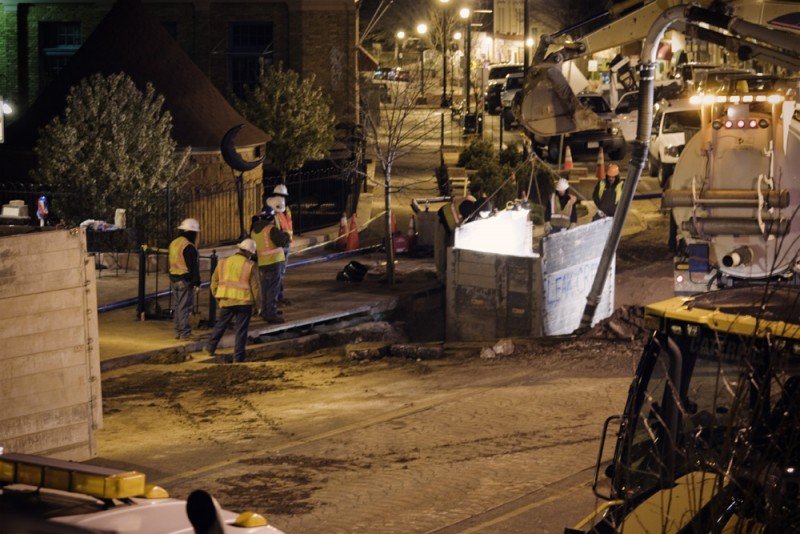 The good news is, the water was turned back on after about two hours.
The thing I'm a little wary of is that they came out with a statement at one point that said they didn't "think the drinking water had been compromised."
I had about 20 oz of drinking water in my filtration system. For a while, I didn't even think I was going to get to have a pot of coffee this morning. (I know, I know. TRAGEDY, right?)
It really makes you stop and think: What if you didn't have water for three days? Are you prepared for that potentiality?
Are You Prepared With YOUR Water?
While – as you guys know and love – I'm kinda wary of governmental declarations (ahem), one thing I'm fully on board with is being prepared to take care of yourself in the event of an emergency.
The best way you can do this is by having a drinking water supply on hand. Even FEMA tells us all that we should be prepared with:
1 gallon, per person, per day, of drinking water for at least 3 days.
They recommend getting bottled water.
I, however, wanted something that'll last even longer, will get us through the toughest times, and provides optimal drinking water RIGHT NOW. Because we want to avoid things like heavy metals, bacteria that can be found in drinking water, and especially fluoride.
That ended up being a Berkey filtration system. It doesn't need water pressure to work like reverse osmosis does, and it wouldn't take a second mortgage, like reverse osmosis does.
They're still not cheap, though, and it was a stretch for us to get one, but not a single day goes by that I'm not grateful for this purchase.
Today, I was extra especially super duper incredibly grateful.
After spending about an hour freaking out about not having water, I realized that – if things got really out of hand and we had nothing to drink – I could always grab a jug and walk down to the stream. Just like the olden days. Except in the new-fangled days, I could bring the stream water back, filter it through my Berkey, and be just fine. (Many people who live off the grid use their Berkeys to filter rainwater into drinking water.)
That being said, I did learn a lesson today, and that's to keep it filled all the way up as often as possible. And to store a few extra jugs of water under the back porch. Just in case.
Are You Going to Do Something About It?
So there's my story, and my official statement (take THAT FEMA): Make sure you have clean, safe drinking water for everybody in your family for at least 3 days. Soon. Today, even. Whether it's with a system like a Berkey or bottled water.
Have you done that yet?
'Cause, it could be a water main break, it could be a flood or an earthquake, or it could just be that you forget to pay your utility bill. But it's so nice to know that you're not going to go thirsty.
Or that, at least, you'll get your pot of coffee that morning.
—
Oh, and we bought our Berkey from More Than Alive – a store I trust enough to be an affiliate for – and who, for the hours and hours of groaning and comparing and contemplating and researching I did, had the best prices when we ordered. It looks like the price has gone up a little bit, but it also looks like demand has skyrocketed. Go figure.