New plan.
After spending 4 hours yesterday writing about my favorite companies, I realized I had a novel – not a blog post. So I'm going to break this all up into separate posts over the next few weeks, so you're not overwhelmed and I don't go batdoody crazy.
Interestingly, the company that sparked the most outrage yesterday was Clorox-owned Burt's Bees. Lip balms seem to be a hot topic.
Good news, everybody! I have lots of favorite lip balms that don't include the words Burt or Bees.
Better news, everybody! Lip balms are super easy to make.
Here are three of my favorite lip balms, and in the next week I'll be posting a few easy lip balm recipes you can make in your very own kitchen.
As a side note, if any of you lovely readers own a natural beauty/food company and would like me to test your products and potentially write about them, I'm game. I'm especially interested in natural/organic cosmetics. I have three favorite companies right now, but I feel like my exposure to natural/organic cosmetics isn't as broad as it could be. Shoot me an email if you want to set something up!
Crunchy Betty's Favorite Lip Balms
Badger Cocoa Butter Lip Balm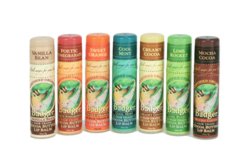 Badger Cocoa Butter Lip Balm – by Badger. The link actually takes you to the page that shows brick and mortar stores where you can buy them (like Whole Foods and Ulta) but here's the entire lip balm list if you want to browse your flavor options.
The cost to purchase a lip balm on the site is $5, but the shipping is a whopping $7, so I'd recommend checking a store first.
My favorite flavor? Vanilla Bean.
What I love most about this company: Their cocoa butter is certified fair trade, most (if not all) of their products are certified organic, and their website clearly states all of their VERY natural ingredients.
Kiss My Face 93% Organic/100% Natural Lip Balm

Kiss My Face 93% Organic/100% Natural Lip Balm – by Kiss My Face. What you want to look for is the non-SPF varieties. The balms that offer SPF also include titanium dioxide, and while that's a VERY common ingredient in any sun protection products, it's not something I'd want to put on cracked/slightly bleeding lips.
My favorite flavor? Maple Sugar. Mmmm.
Again, I probably wouldn't order this lip balm off the site, as the shipping charges are pretty high. However, it's in TONS of grocery stores these days, as well as Target.
What I love about this company: Their name. And their commitment to natural products and the environment. And this simple little sentence on their website that says:
"We are independent—one of the only category leading companies that is still owned and fostered by caring individuals committed to the natural lifestyle."
Salus Organic Lip Conditioner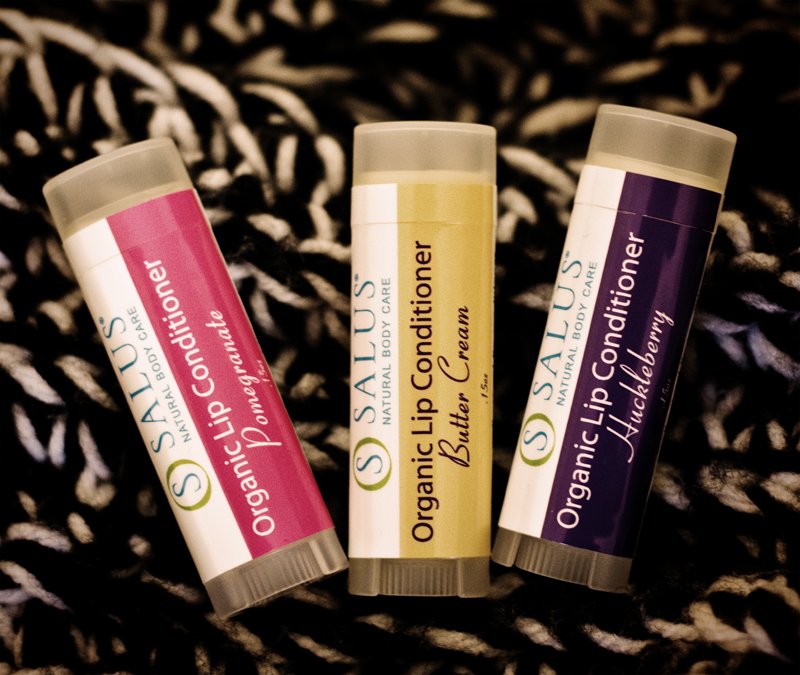 Salus Organic Lip Conditioner – by Salus. They've got so many different flavors, it's so hard to choose! On the site, these lip balms run all of $2.75. However, shipping rates are a little pricey.
I suggest making your purchase count and picking up some of their Scrubbles hand and body soap (this stuff is mildly exfoliating with jojoba beads … and it's freakin' awesome) in the Vanilla Black Velvet blend and a Goats Milk Lotion in the same essential oil blend.
What I love most about this company: They're right across the street from me, and I've gotten to know the owners well. They're extremely committed to healthy, safe body care products – and they're just good, good people. Talk about a company that will give you straight talk, helpful service, and a happier day … Salus is it.
What I REALLY Love About This Company Today:
Want Free Salus Lip Conditioner?
As I was writing this post, I decided to hop on over to Salus and have a chat with Jerell, one of the owners.
I mentioned that I had readers who were dismayed by the Burt's Bees situation, and he promptly gave me a set of three free Organic Lip Conditioners to pass on to one of you guys. Thanks, Jerell!
The flavors I chose:
Huckleberry
Butter Cream
Pomegranate
(They're also the exact same lip conditioners pictured above.)
Want me to send you these three fabulous lip conditioners for free?
Great!
But only one of you will win, so here's how you do it.
How to win a set of 3 free Salus Organic Lip Conditioners: Leave a comment here (just make sure to give me a valid email address) telling me you want to experience a new lip balm owned by a small, ethical, and freakin' awesome natural beauty business. (By that, I mean … just leave a comment saying you want to win. That's easy, right?)
That's it.
I hate giveaways that make you jump through a thousand hoops to qualify, so I won't do that to you.
However, if you want to Tweet this on Twitter or toss it up your Facebook, I won't complain.
This Giveaway Offer Ends: On Friday, January 28, 2011, at 10:00 p.m. MST. Saturday, the winner will be chosen by the magical, mystical Random.com number generator.
Who Can Win: Anyone in the U.S., Canada, or Mexico. (Sorry crunchy beauties overseas, my budget just doesn't allow for shipping that far at the moment.)
Ready?
Set?
GO!