You guys know how when you're late with your tax return, you get fined, right?
And you know how if you never, ever do taxes, you get thrown in jail?
Well, if the government required us to clean our ovens once a year, too, I wouldn't just owe fees. I'd be in prison. For life.
LIFE.
I'm 36 years old. Would you like to know how many times I've cleaned an oven? Never.
One of the main reasons is that before I became the crunchy mess I am today, I thought there was no other way to clean an oven but with chemical-laden, noxious, toxic store-bought oven cleaner. And the thought of filling the place I cooked with chemicals like that just grossed me out. More than a slightly smoky oven, apparently.
In my life I've been guilty of the following:
Paying people, several times, to clean my oven when I moved out of a place
Opening windows and hoping that eventually I'd just burn off whatever was stuck to the bottom of the oven
Pretending my cookies didn't taste like charred cheese
Taking advantage of the fact that an apartment complex would rather refund a deposit than make a stink about a dirty oven
Eating takeout for a year straight, so I didn't dirty an oven
These are my sins. Judge me lightly, please.
I can't get out of it this time, though. How crunchy would that be? Seeings as I'm in my final throes of moving/cleaning agony, I tackled the oven today using a slightly modified version of recipe #3 from Tipnut.com.
Just to be clear, before I tell you what and how I did it, there are a lot of things going against me at the moment. First, I've never cleaned an oven before. Secondly, this oven wasn't sparkling clean when we moved in. Third, it's exponentially dirtier now than it was two years ago. And lastly, the racks won't pull out.
Explain this to me. Why won't my racks pull out? They've been stuck since I moved in, and I've pulled and pulled several times, lifting and jamming and tilting and smushing. But they won't pull out.
Look, and tell me if you can figure out what law of physics I need to break to get them out: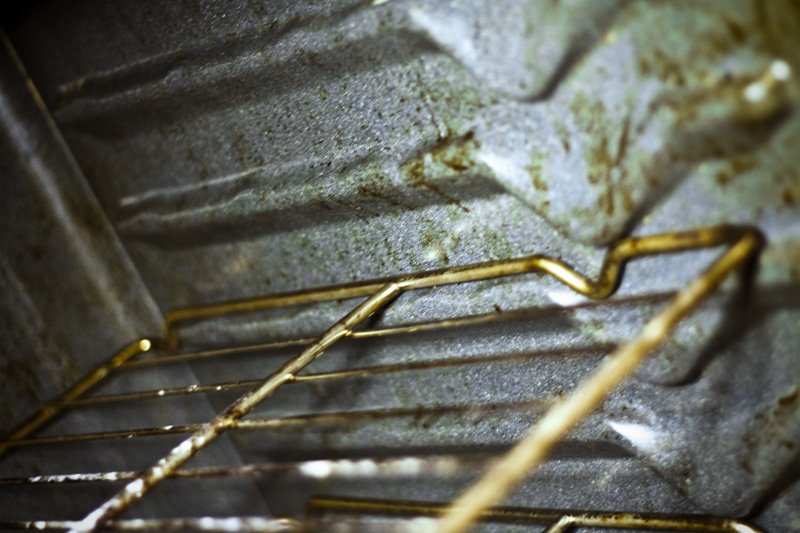 There are those little grooves, but they don't dip in and under them. They just get stuck and won't move.
So, anyway. Racks are still in there, and I have to clean around, under, and over them. No biggie.
Nontoxic Homemade Oven Cleaner
When you're going to clean your oven, and you have a half-inch layer of charred junk on the bottom, it's best to take a look, first, at what you're dealing with.
I grabbed a flashlight and went in (with a rope tied around my waist and to the cabinet behind me, so I didn't get lost).
I found pepperoni.
This is a no-no, using a paint scraper on your oven, but with a thick layer of burned stuff, I felt safe using one to lift up the pepperoni. I can assure you, no oven bottoms were harmed in the making of this picture.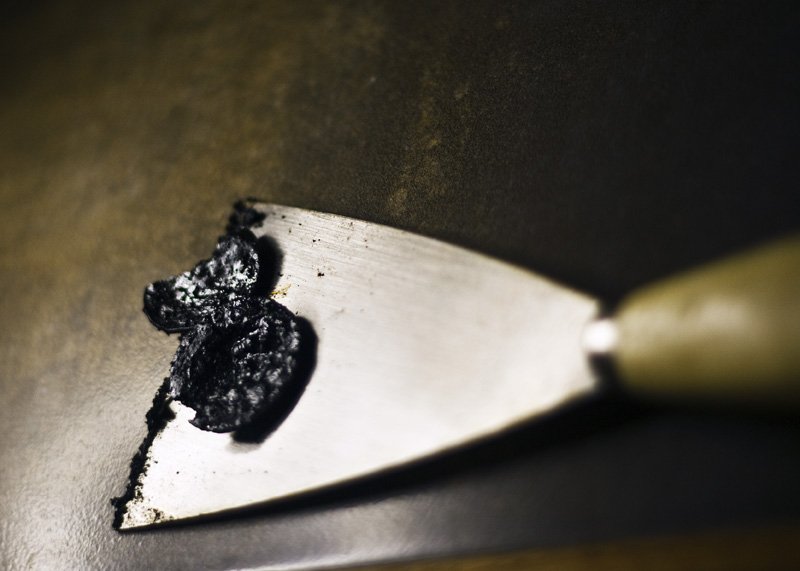 After the pepperoni was retrieved and given proper burial in a trash bag, I put together my cleaning solution.
Here's how.
Homemade Oven Cleaner Recipe
1 Tbsp borax
1/2 c. vinegar
1/8 c. dish soap
1 c. boiling water
Combine everything in a spray bottle and shake well. Sprinkle the inside of your oven with baking soda. Spray a thick layer of the oven cleaner all around your oven. Thick, thick layer. Sprinkle with baking soda. Leave overnight, and scrub out in the morning with a hot, wet rag.
Because I forgot to put baking soda in the first picture of the post, it's making a special picturesque cameo. It's the star.
Gaze at it adoringly: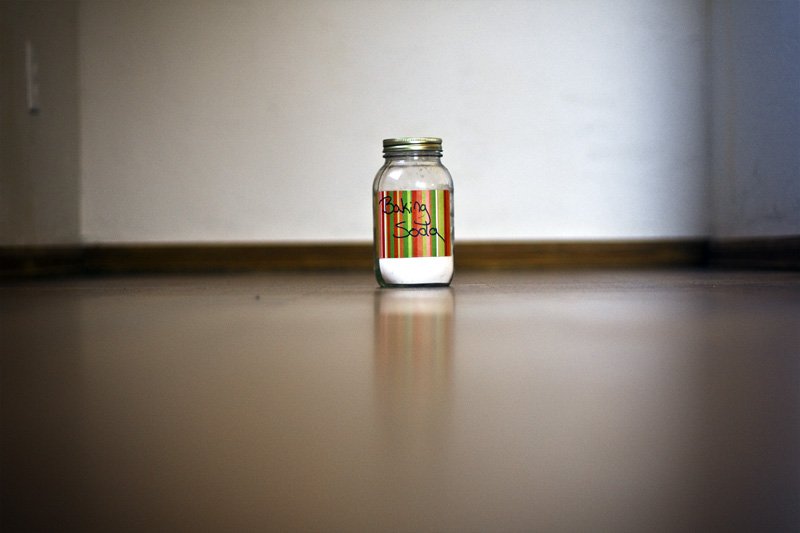 So, again, after you've combined everything (except the baking soda) together in your spray bottle, you go to town, spraying and spraying.
And marveling at the way the liquid turns black as soon as it touches the bottom of your oven.
Eventually, you look at the oven door and realize it's a streaky mess, too, so you spray it on your oven door (and leave it open all night, too).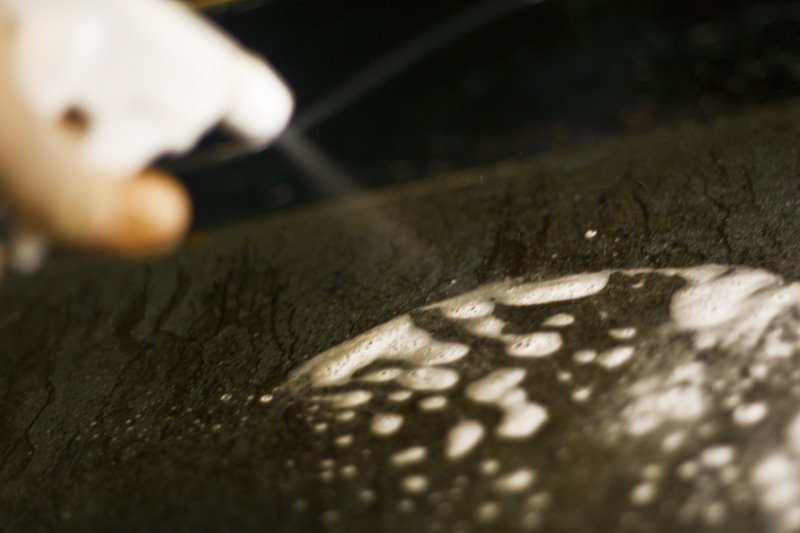 Okay.
That's as far as I've gotten now.
The oven in my old apartment is standing open, full of baking soda, borax, dish soap, and vinegar.
Here is what it looks like at the moment: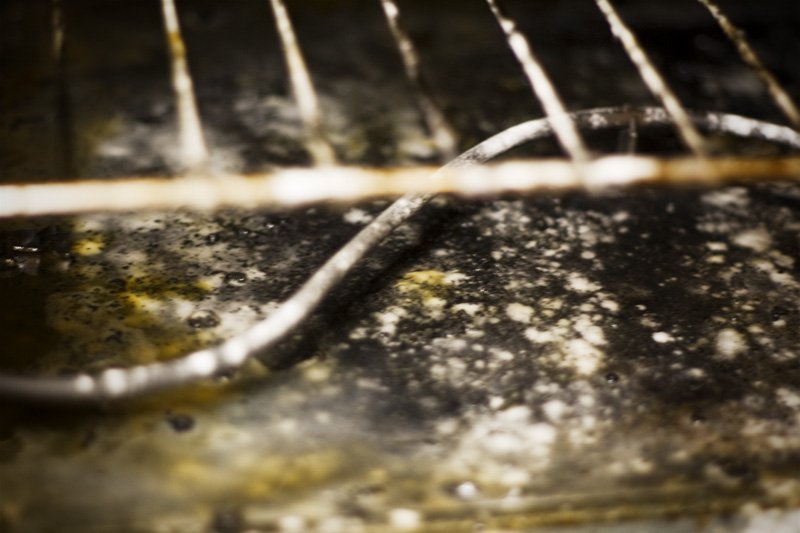 Will it work?
Will this be the successful experience of a lifetime?
Or will I lose everything and have to buy my landlord a new oven?
Find out tomorrow.
I'll be posting an update on whether or not this worked, as well as the lucky winner of the Eco-Dent and Beauty Without Cruelty Pretty Mouth Giveaway.
You still have time to enter! (Depending on when you read this …) The entry time is over at 10:00 p.m. MST Wednesday, April 6th. So HURRY!
What's Your Oven-Cleaning Routine?
Seriously.
How often do you clean your oven?
Have you found a crunchy way to do it?
Lemme know your secrets. Especially if this doesn't work. I'm straight-up stressing out at the moment.