My dad had a heart attack.
On Wednesday.
As far as heart attacks go, and after a previous triple bypass 11 years ago and hundreds of steaks (not the grass-fed kind) later, it was only a small heart attack. He's okay. Recovering, but okay.
My dad and I haven't always seen eye-to-eye regarding healthcare. See, he's a nurse practitioner who has been educated (like so many healthcare professionals) strictly by the pharmaceutical companies for years. Drugs cure everything. They fix all ills – even when they cause others (and that's okay, because there are more drugs to fix the ills that the first drugs caused).
We had a huge fight seven or eight years ago because I suggested that he look into taking cinnamon supplements to help control his blood sugar. He held up a syringe full of insulin and a blood sugar monitor and firmly stated that was all he needed. Of course, it wasn't – there was at least one more medication he took, and it turned out his blood sugar was way out of control despite all that.
The trips to the grocery store with him, though, are the worst, because he loves his steak – and he doesn't care where it comes from. We watched Food, Inc. together, and apparently he was all, "Eh." When you're in your 60s, it's really hard to change your mind about how you buy your food. I get it. It's like if a teenager came to me and said, "Really, you should like Ke$ha. Toss out all your indie rock." It's like that, only I'm not stupid.
But here's the deal: Even with a heart attack 11 years ago, and with only a few lifestyle modifications that didn't get in his way, he's been nearly effortlessly healthy since that fateful day they cut into his heart and smushed things all around into new places.
So for 11 years, he took far less than the bare minimum of recommended pharmaceuticals, was completely noncompliant with his followups, and still remained pretty vibrantly healthy. Could he have done things differently and had a better outcome? I have no idea. But it's worth noting.
Anyway, the stories of my dad aren't the meat of what I thought I'd share. Two things happened over the days I was with him in the hospital – two things that will raise your eyebrows, I do believe.
First:
The Cardiac Ward is Very Sad and Full of Weird Nutritional Advice
If you've never been in the cardiac ward at Penrose-St. Francis in Colorado Springs, and you have no reason to go, don't. Or do. But just go and be friends with all of the patients. Go and bring flowers and puppies and sugar-free lollipops that look like flowers and puppies.
As you walk down the hall, you'll be struck by the multitudes of patients who are very, very old and so attached to hoses and strings that they cannot stand up. They cough a lot. And hardly anyone is there to visit them. (This is why they need flowers and puppies.)
It is the opposite of life. That is what it feels like there.
But the nurses are SO wonderful, and I had a brief moment, watching them do their caregiving thing cheerfully despite all the illness, where I thought, "I want to be a nurse when I grow up! Look at how kind they are. I should be kind too." That was the one bright spot in the whole of all the days I was there.
Also when you walk down the hallways, you'll find many posters on the wall making dietary suggestions to the cardiac care patients. These are things they're told to eat when they're finally released. Here is my artist's recreation of what these posters look like: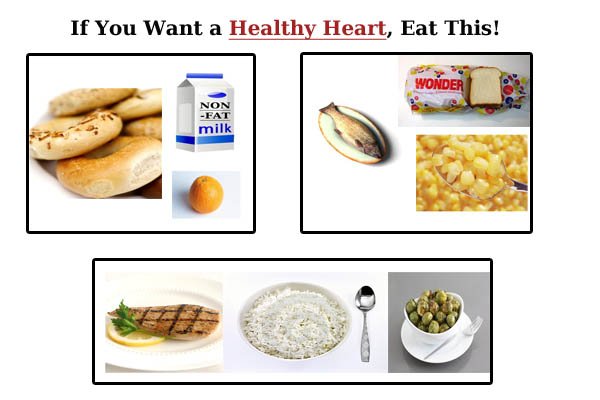 On first glance, not a big deal, right?
I'm no nutritionist (like, not even close), but even I know how unhealthy refined carbohydrates are – and almost all of the pictures included a refined carb. Not that it's a huge deal, but really … hasn't our food pyramid come farther than this by now?
And, consider this: You've just had a heart attack. You're depressed. Life's rough already. If you were sentenced to only those foods (which are very arguably NOT the most healthy choices already) for the rest of your life, would you even care about living it? It's a wonder more people don't just die from a broken heart right on the spot when they're released.
Here's what else happened.
Don't Read Health Magazine in the Hospital
As if it wasn't bad enough that when I cracked open the latest issue of Health magazine sitting on the table in the cardiac catheterization lab waiting room, the first statistic I glanced at was "Chances of dying in an airplane accident: 1: 2,000,000. Chances of dying in the hospital due to a medical error: 1:300," the next few pages blew my mind.
Juxtaposed between the ads for questionable chemical-filled cosmetics and athletic companies telling women that they will feel so much more empowered if they buy a gym membership was an article with a headline that said something like this: The Worst Things You Could Do For Your Health.
(Okay. Not a direct quote on the title, but the article title isn't on the Health website, and I'm not spending $5 to reread a magazine that just made me feel sad and angry inside.)
I cannot remember the third thing in that article, because the first two blew my mind so hard: Drinking raw milk and growing your own sprouts.
In this article that was all about the most dangerous things you can do for your health, two things were (this bears repeating) drinking raw milk and growing your own sprouts.
But here is an artist's rendering of what this article actually looked like: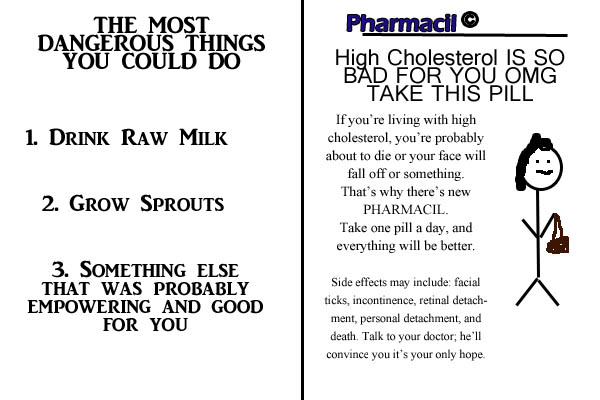 Unbelievable.
So there you have it. My trip(s) to the hospital.
I do want to finish by saying this: I'm so on board with medical intervention in the form of things like bypasses and cardiac stents and surgery to remove tumors and moles. But when the doctor said to my dad, "We're going to have to put you on several high-dose medications to keep you alive," my heart just sunk.
That's the part I have a hard time with.
But in the end – right now – I'm just glad he's okay.
And that things are going to get back to normal soon – for him and for me.