We bought a new printer a few months ago. It only made sense, because the ink for my old, terminally dysfunctional printer (which started malfunctioning approximately 2.3 seconds after looking at it out of the box) was going to cost about the same as just buying a new printer. Plus or minus a farthing. Farthings, by the way, equal a haypenny and a sheckel, plus a bag of brussels sprouts. This is commonly known; look it up on any currency exchange site.
The old printer is sitting in the garage, waiting for me to take it to a recycling center or refashion it as a trendy hip-hop necklace.
Anyway, we bought this new, inexpensive printer. It worked perfectly, long enough so that I could print out a 10-page booklet on how to care for printers. And then the ink was low. Not all the ink, mind you. Just the magenta, which is funny, since the booklet was black and white.
Five more pages into printing, all three color cartridges showed low ink. The main black cartridge displayed over half-full. To be fair, the next five pages were photos of my cat. He was high on catnip, something every good cat owner should document and display.
Let's cut to the chase, shall we? The color cartridges were out. The black ink well was half full. And the printer shut off and wouldn't do anything. Not even when I tried to print something off in black. Just black. It's a half full cartridge. It's MY half full cartridge. I need to print off a sign for my door (it says, "Velkommen," because Norwegian words are silly). It's an emergency. I have ink. Let me use it, mkay?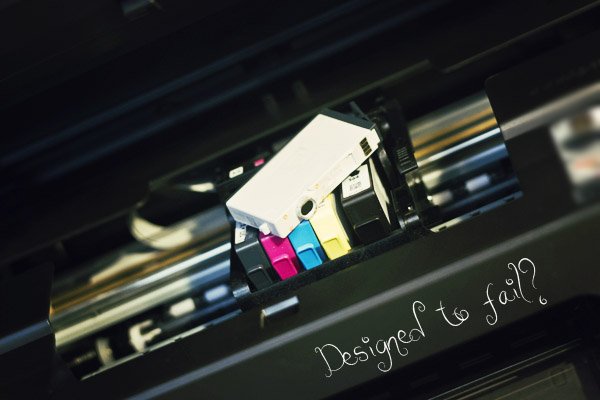 The printer would do no such thing, telling me I had to replace the color cartridges first. So we hustled out, spent a month's rent on three color cartridges, came home and installed them. The printer was all, "Oh, no, girl. Oh no you din't. You ain't gettin' none of me until you replace the black cartridge, too."
(I have to interject here that ink refilling stations won't refill the cartridges that came with the printer. Because they're "starter" cartridges. This is code for "you just thought you were getting free ink with your printer purchase MUAHAHAHA!")
Even though our black cartridge was half full, it was done. Finished. Kaput. No worky.
You know what Skip said? He said, "Well, what do we expect? That's just how printers are. Finicky. Oh well. Let's go spend our grocery money on a new black cartridge now. You must post that sign on the door immediately."
I shrugged, agreed, and we went along our old-ink-cartridges-for-dinner-ways.
So. Tell me. What's wrong with this picture?
Enter Stage Right: Planned Obsolescence
We take a lot of things for granted in our lives. The sky is blue, rocks are hard, golf isn't really a sport but NASCAR is. The stuff we buy will break the day after the warranty runs out.
That's just the way it is. Shrug. Things break because they're made cheaply. But it's okay, because they're made cheaply so that we can buy them cheaper. It's to our benefit! This is the world! Live with it!
But what if it wasn't that way at all …? What if things are made to break? Like, on purpose? At a set time? So we have to buy more? Hmmm?
What now, consumers?
Well, of course, what I'm getting at is that this is the way the world works. Printer ink is designed to shut itself off after a set number of prints, whether or not there's ink left in the well. Printers are designed to break (via microchips) after a set number of prints, as well.
You know what's harder than licking your elbow while baking a souffle in hell? Replacing an iPhone or iPod battery. You know why? Because they like it that way. Here's a fun fact: Your iPod batteries are designed to fail within a certain number of months, likely just past your 1-year warranty. Do you know how much a replacement Shuffle battery costs? $49. Do you know how much a new iPod shuffle is? $46.
I am not making this up.
Manufacturers design our products to fail after a certain number of uses, so we chuck them out and run out to buy the newest, shiniest versions. How else are we going to keep these corporations afloat? HOW WILL THEY SURVIVE IF WE DON'T PLAY THE WASTEY-WASTEY GAME WITH THEM?
Seriously. Don't be a sore loser, people. They win and we sort of, very hollowly, pretend that we win, too. Because we get new stuff.
The Runs in Your Pantyhose are a Conspiracy
Sounds funny, doesn't it? But it's actually a thing. I recently watched The Lightbulb Conspiracy: The Untold Story of Planned Obsolescence (it's not an easy watch, because the subtitles sometimes overlap, but I HIGHLY recommend it), which discusses all of this at length.
Here are some of the dastardly things we learn in it:
After Dupont invented nylon stockings, they sent their scientists back to the lab to actually remanufacture nylons so that they'd be more fragile, "run" more often, and force women to buy more due to shoddy durability. Before that? Nylon stockings were strong enough to tow cars with.
In the early 1900s, a "light bulb cartel" (no, not making this up either) set strict guidelines that light bulbs could last no more than 1000 hours, even though light bulbs on the market at the time ran for over 2500 hours each.
You might remember this, but back in 2003, there was a class action lawsuit brought against Apple due to the aforementioned battery issue, and the fact that they actually manufactured their batteries to last no more than 18 months, after which they would malfunction and users would either have to buy a new one or pay a repair fee that was nearly identical to buying a new one.
In the 1950s, planned obsolescence was openly talked about and even bragged about. Advertisers were more savvy than ever, and did a bang-up job convincing the American public that they shouldn't want quality, they should want fashion. This began the current era of throwaway products that would look "silly" if you had them a year after you bought them (and, yes, this includes our current concept of clothing fashion). It's also why so many people buy into the belief that buying newer, newer, and ever newer models of cars make them look "with it" and "successful."
Printers. See above. It's all for real. It's a conspiracy. Not a theory. Printer manufacturers actually do this.
Our waste – our American electronic waste – is dumped in Ghana. Where we don't have to think about it, look at it, deal with it, and we're allowed the blessed ignorance that it even exists. It exists for the people of Ghana, though. Look. No, really. Check this out.
Planned obsolescence is a real thing. A real problem. And it's really how our corporations think. They justify it as "spurring innovation" and "keeping the economy running," when, in fact, innovation would be creating products that last for generations. Keeping the economy running would involve keeping the world safe to live in, free of excessive trash and waste, because without a happy world, there is no economy.
There are many, many more examples of planned obsolescence (and perceived obsolescence). Want to learn more?
 But You Already Knew All This, Didn't You?
Let's reiterate this … this fact: We know things are made to break. We don't put a lot of thought into it, because, well, that's just the way it is. We, personally, don't have very many options, especially with things like electronics. If we want to print a Velkommen sign, we have to use a printer. And not a single, solitary printer manufacturer doesn't abide by this concept.
It's not so much a conspiracy (and it's definitely not a theory) as it is just a given truth that we don't even consider anymore. Not in terms of its complete disrespect to consumers. Or its nefarious backlash on the environment.
We think, "Oh well. That's just life. Still have to live it, don't I?" It's like you're given an option: Either participate in this society the way it is, or don't. But if you don't, you're left out of many of the perks of being in it (like printing things, carrying a cell phone, and more). You're either in the dark or you're a part of the machine. That's how it seems, anyway.
I don't typically like to write things like this without offering some ideas for a solution. And, typically in a situation like this, I would urge everyone to vote with their dollars and not buy things that are made with planned obsolescence in mind.
However, I highly doubt most of you are going to give up your printers, your mp3 players, your razors, your cell phones, and your pantyhose (but, really? Do you still wear those things?).
And, to that end, I'm pretty clueless. I wrote this not only to help everyone understand what we're dealing with here, to inform, but to plead to you creative thinkers out there to help us all:
What actions can we take to eradicate the scourge of a throwaway society, one that rewards the machine of waste and irresponsibility?
Can you think of any tricky, crafty ways to turn the tables on the manufacturers that constantly employ this (and, by the way, this practice extends into everything we use – including toasters, hair dryers, furniture, and more)?
If you were me, what steps would you have suggested to everyone else to avoid allowing "planned obsolescence" in your homes as much as possible?
There's CLEARLY so much more to discuss about this practice and how it's fed the machine of consumerism and waste for decades, but we'll save that for another time. The time, maybe, when we've all put our heads together and come up with some really table-turning ideas.
Maybe that day is today? Make it quick. I have to get these ideas on paper before my printer breaks.