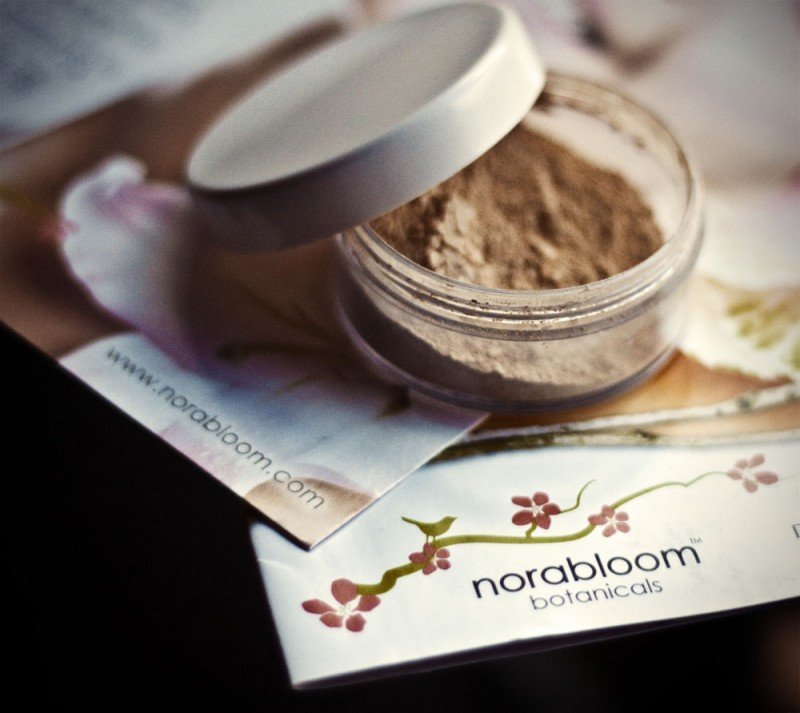 Over the last year, I've found myself becoming less and less of a makeup wearer. I'll put on cosmetics maybe once a week. Even though it's infrequent, I am an absolute obsessive about the quality of the cosmetics I do use.
However, I don't make my own makeup. Or, at least, I haven't yet. It looks complicated and pretty expensive for most of the ingredients.
So when Holly from the lovely (eco-conscious) company Nora Bloom sent me some loose mineral powder to try, needless to say, I was stoked. By stoked, I mean I called everybody I knew (who still actually answer my phone calls) and told them how great life was.
(Simplicity is the key to happiness.)
See, I have a deep, abiding love for mineral foundation (but please read the bottom of this post for more thoughts about it). My skin tends to be on the oily side, and I'm not really a fan of the "sheen" look that so many liquid foundations offer. Light matte finish is my friend.
But on the Nora Bloom website, she recommends using her Dandelion Face Cream in conjunction with the mineral powder to create more of a tinted moisturizer. And I loved that idea. But I didn't have any of the cream.
Crunchy Betty to the rescue!
I cooked up a quick and easy recipe for daily moisturizer that you can use with or without the mineral makeup. Hooked. I am absolutely a new convert to this method. Best of all, everything that I'm putting on my skin is 100% natural. 100%!
When you're done here, be sure to hop on over to the Nora Bloom site and check out some of her paraben-free, pthalate-free, ultra-nourishing skincare items. The calendula cream, in particular, looks heavenly!
Homemade Moisturizer That Turns Mineral Powder Into Liquid Foundation
Combine all ingredients in a small bottle and shake well. Should keep, unrefrigerated, for at least 6 months. Approximately 30 applications – depending on how much you use each time.
.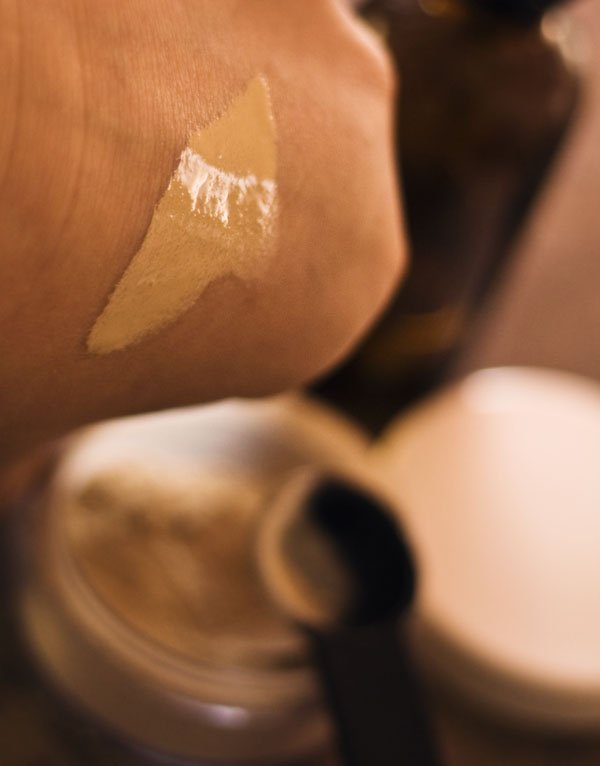 .
To Use Your New Moisturizer As a Foundation Liquifier
Put a scant 1/8 tsp of your loose mineral powder in the palm of your hand, and add the moisturizing oil until you reach your desired consistency (I found about 6 drops out of a dropper was perfect for a light to medium-coverage application). Rub the mixture around with the ring finger of your opposite hand until it's blended well. Apply as you would any liquid foundation.
Notes to Consider:
There's no reason why you can't just use the moisturizer you have right now to create this effect. Please, though, be sure it's all natural (and I mean do that by actually reading the ingredients).
For me, this was the perfect coverage and it lasted (on my three trial days) at least six hours before I felt like I should apply powder. I did find, though, that at around hour 3 or 4, I started to get the "glow" look – and I didn't mind it at all! It was actually really pretty and natural, and not at all oily-appearing.
The oil moisturizer recipe is perfect for any skin type, though drier skins may need a little extra moisturizing. Try adding a few drops of jojoba oil to the mixture for that.
After applying the oil/powder combination, I set it with a very, very light dusting of the powder itself. I think that's what gave it extra staying power.
The moisturizing oil can be used alone (without any makeup) as your morning moisturizer. Just be sure to apply to a clean face.
.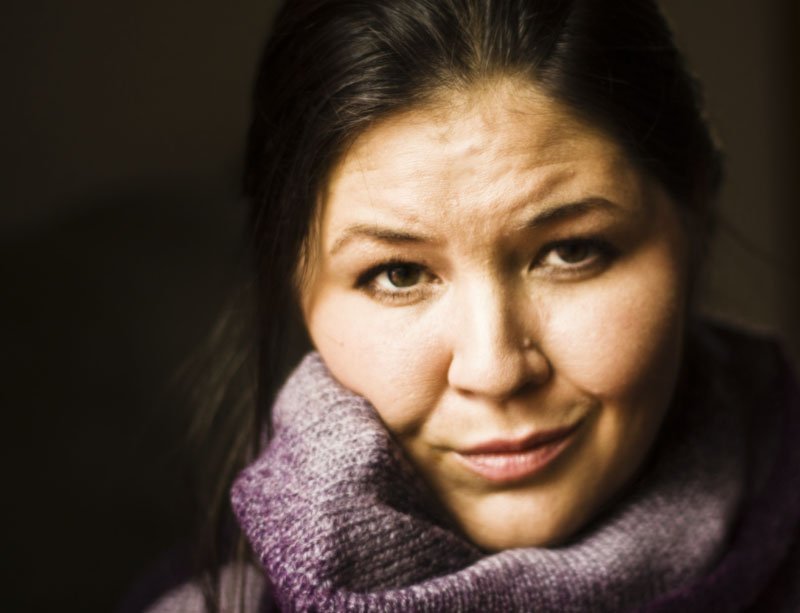 .
The Controversy Surrounding Mineral Powder
Earlier this year, Dr. Oz created quite a spectacle by declaring mineral powder makeup unsafe. The reason, he states, is because you can inhale it, and it can be an irritant to the lungs. Even though he admitted that there were no scientific studies backing the claim that the tiny amounts of dust that MAY fly (by novice mineral powder users) could be harmful, he encouraged women everywhere to throw their mineral makeup out.
And all hell broke loose.
Here are my thoughts on that: Mineral makeup powder (created by brands who are conscious of the quality and naturalness of their makeup) are 100% purely natural – no synthetics at all. This is already a huge step up from where makeup has been for decades. Secondly, if you make sure your mineral powder is not micronized (leading to nanoparticles), the possible dangers reduce substantially. The good news is, most conscious cosmetic companies will not micronize their mineral makeup.
Lastly, for me personally, I use makeup so infrequently that I have a hard time worrying about the minuscule amounts of dust I may or may not be inhaling when I use mineral powders (that are non-micronized). The benefit to my skin is just too great.
And while Crunchy Betty is, of course, dedicated to healthy, green, nontoxic, and conscious beauty and homemaking, I'm doing my best to avoid jumping on the fear-mongering bandwagon. There are ingredients I avoid like the plague (parabens, pthalates, petroleum, mineral oil, sodium lauryl sulfate, etc.), but I research and use critical thinking before going nutso about it.
I do, though, reserve the right to change my opinion, should other evidence present itself.
—
What do YOU think about mineral makeup powder? And did you visit Nora Bloom? LOVELY, isn't it?
.
(I'd like to point out that, while I did receive a free sample of the loose mineral makeup, I was not monetarily compensated for this post, and all the opinions and ideas contained within are 100% my own authentic thoughts. Nora Bloom was lovely and didn't even ask for a review in return for the product. I was just so excited about the results of all of it, I had to write about it. So there.)