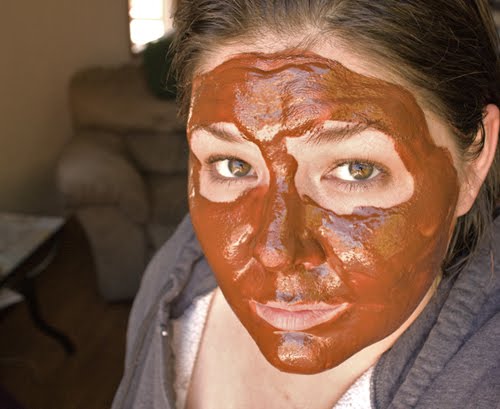 This is me as I sit and write. Not a pretty picture now, admittedly. But soon, my skin will be tight and clean and amazingly smooth. Beauty by gunk.
As I was applying this mask, a mental calculation of all the money I've spent on beauty products over the years started running in my head. Then, I calculated how much this mask cost: Approximately 10 cents. That's right. Ten pennies.
Three years ago, if you'd have told me real, healthy skincare would have been as easy as a trip to a natural health foods store and digging through kitchen cabinets, my mind would have swam with visions of large, nasty, pimply boils. The belief in mother nature's ability – alone – to take care of my own skin was completely absent.
SILLY GIRL! Five weeks now, I've been taking care of my face using ONLY natural ingredients. And it's never, ever, ever, ever looked better. Except maybe when I was 2 (and resembled the above picture 90% of the time – mmmm chocolate).
Red Clay Pore Cleansing Mask
If you're hesitant to try concocting your own beauty regimen, I sympathize. But I also promise it's more rewarding AND effective than slathering on a chemical-ridden cream you paid far too much for.
So, without further ado, here is what is contained in this magical, earthy mask:
Pore Cleansing Mask Ingredients
1 Tbsp. red clay
1 tsp. witch hazel
1/2 tsp. honey
Enough distilled water to create a thick paste (maybe just a teeny tiny drop or two)
Mask Instructions
Stir and stir until it's a nice, thick, spreadable consistency, and smear it all over your pretty little face (avoiding, clearly, the eyes and lips. Let it sit until dry (20-25 minutes) and then wash off and finish with moisturizer. Then, love your face. Love it like crazy.
As an added bonus, red clay is an amazingly effective pimple-zapper. Simply mix a small (very small – this stuff goes a LONG way) amount of red clay and witch hazel in your hand and dab onto the offensive bumps. Leave on over night and wash well in the morning. If your pimples don't decrease in size by some measurable amount over night, I will eat my cheesecloth.
As always, if you try this at home and love it, please let me know. If you're brave enough to share a picture of you trying it, I will love you forever. And ever.