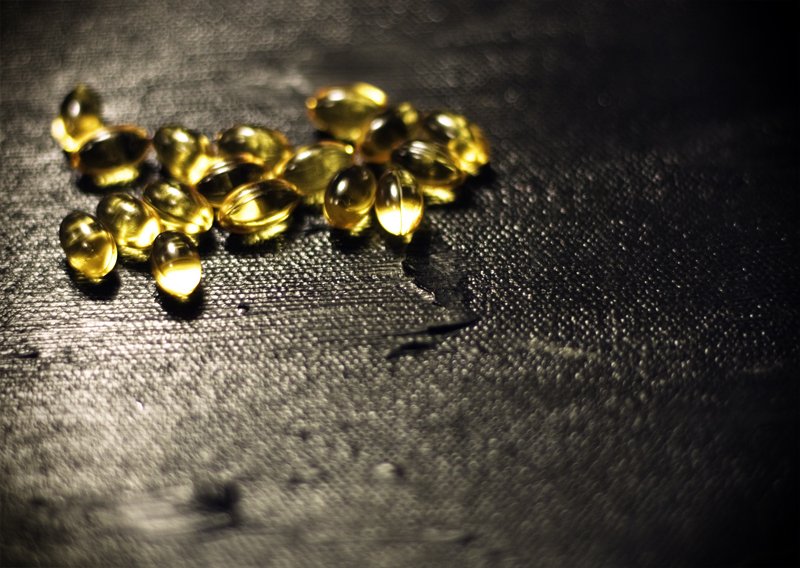 You guys might not have noticed this, but we have a hidden gem who comments here at Crunchy Betty.
Her name is Susan.
She's a chemist and, originally, I was so very paranoid that she was going to start telling me how wrong I was about everything I was writing. Quite to the contrary! She's a champion of safe beauty products, and most of all, homemade goodies.
Well, recently she sent me a little post about her curiosity about vitamin E and why it's so great for our skin. It's full of all kinds of technical (but fun! I promise!) information that certainly helped me understand a little better.
So I offer her enlightening post here for you, along with a really great conversation we had later about using vitamin E as a preservative.
To wit: I won't make a homemade lip balm without vitamin E as an ingredient. And tomorrow (I even have the post written already!) I'll give you three of my favorite homemade lip balm recipes (complete with vitamin E). Friday, good-hair-day-willing, I'm planning on doing a video tutorial/experiment with a recipe I just found for remedial-easy lip balm (um, using chocolate chips, people).
So learn about the E now, so you know what it'll do for you later! Susan … take it away!
The Crunchy Chemist's Take on Vitamin E Oil
Recently I began using Vitamin E oil for a moisturizer, and I fell in love. It is absolutely wonderful. Right after a shower, I slather it on, and my skin has never looked better.
Except maybe when I was two. I was just radiant then.
Being the science person I am, I wondered what exactly is vitamin E oil? I know what vitamin E is (tocopherols, tocotrienols, and all their different forms), but I knew it couldn't be just straight vitamin E and be that lovely golden color. Straight vitamin E is thick and reddish brown. Why do I know this? I am a chemist!
Currently I work as an analytical chemist for an edible oils company. Just to explain, edible oils just means all the oils that you cook and make food with (I have had to explain to people that no, I do not work with sexy oils).
Here is a little chemistry lesson on why Vitamin E oil is wonderful and what it is made up of.
It turns out the Vitamin E oil that I had purchased is 5000 IU (1 IU vitamin E = 0.667 mg) vitamin E in a mixture of almond, apricot, avocado, and wheat germ oils. Those oils alone are making my skin look great.
So What Exactly IS Vitamin E?
Vitamin E is a collective term for α-, β-, γ-, and δ-tocopherols as well as α-, β-, γ-, and δ-tocotrienols. Most often, at least what I see on labels, is α-tocopherol added into not only cosmetic but food products. It is also labeled as α-tocopherol acetate and sometimes other forms too.
So now you know if you see the word tocopherol on a label, don't worry it's just vitamin E!
Now why is vitamin E so great? We all know that it is a great antioxidant. But why? We know the buzz words when it comes to antioxidants like free radical scavenging, but there are a lot of processes that come into play when talking about oxidation of body tissues. Without going into too much detail, the functional groups and double bonds of vitamin E love to get the other compounds that can cause oxidation of different body tissues.
It also takes the compounds that have been oxidized by sunlight and can stop the rapid succession of oxidation that can take place. (Which can also lead to wrinkles!)
So there is a little chemistry lesson on the joys of vitamin E. Do I think that it is a cure-all and will keep my skin in its mid-20s state forever? Of course not. But it can help.
What will do the most good? Limiting exposure to the sun and other things that cause oxidation in the first place. I took a photochemistry class and now I am terrified of the sun and putting a lot of things besides copious amounts of clothing on my body. But that is for another time…
The Crunchy Chemist Answers a Pressing Vitamin E Question
After Susan sent this post to me (which also happened to be just about the same time I started having my little depressionary (I made that word up) breakdown), I started pondering why it was that more cosmetic companies don't use vitamin E as a preservative instead of the questionable synthetics they do. Here's what transpired.
From: [email protected]
Hi, Susan!
Doesn't vitamin E have preservative properties? If so, what's the stability of vitamin E as opposed to things like parabens and phenoxythenol?
I guess my gist is this: Why do companies feel the need to use potentially dangerous preservatives over some of the less sketchy ones?
Is vitamin E not a viable preservative choice? Am I just reaching here?
Her Patient Answer:
This is a question that many companies are trying to answer themselves. The bottom line comes down to this…how good the preservative is and how expensive it is. In my industry, vitamin E (usually marketed by the companies that sell it as mixed tocopherols) is being investigated by many companies as an alternative to synthetic antioxidants.
There are some other antioxidants out there that are extracts from plants like rosemary and oregano too that have antioxidant properties. But, the people who are purchasing the product want there to be no difference in shelf life between the synthetic and natural versions. So, companies have to test the levels that are needed to get the same effect. To test shelf life, there are myriad industry wide standard tests that are used (that is my area of expertise).
As you probably know, natural products sometimes require a price premium, and not all consumers are willing to eat that upcharge. Most companies aren't going to add a natural antioxidant just because it is the right thing to do; they are a company and companies are generally there to make some sort of profit. That is why there is a niche sector of natural products; not everyone is willing to pay more if that is what it means to have natural.
Big Thanks to the Crunchy Chemist!
I gotta be honest here, I don't think I would've made it through my little breakdown moment if it hadn't been for Susan's emails. It reminded me that we're all in this together – impassioned bloggers and scientists alike.
She was kinda my "link" to the other side, which helped me remember that this isn't a fight – it's a collaboration. And maybe it won't all happen immediately (like I want it to dangit!), but it's happening. We're getting back to the goodness. We're reassessing – the industry and the family – what's important to us, our health, and our happiness.
So thank you, Susan!
SO much!
You guys? Thank her too! Especially if you enjoyed this little lesson.
'Cause if you did, I'll be grilling her a LOT more via email and posting more informative tidbits here.
(Good news, right, Susan?)