At the end of a hearty meal, what more could you ask for than a no-calorie, delicious treat that also doubles as a crud-picker?
(I am not ashamed of my lack of finesse with words, when it comes to oral hygiene. Oral hygiene should be a laughing matter. How else are you going to show off your shiny white choppers?)
Homemade flavored toothpicks are ridiculously easy to make, and not only will you want to keep a bunch around for yourself, but they also make adorable little gift additions. Or you could carry a few batches in your purse to hand to people with offensive breath. Talk about incredibly easy social graces. You just say, "You HAVE to see these adorable flavored toothpicks I made? Here. Have some! Try them! Aren't they awesome?"
Problem = solved.
And who wouldn't want something that looked like this?
This is, for some odd reason, an incredibly photo intense tutorial. Do not let the over-abundance of pictures fool you: Making homemade flavored toothpicks is so easy, even a caveman could do it.
(It's been long enough, right? That joke is funny again?)
Anyway, it goes like this:
Soak toothpicks in oil.
Dry toothpicks.
Pick your teeth.
But let's talk about details. That's where all the fun is!
Homemade Flavored Toothpicks – The Tutorial
Choose Your Oil Flavor
The first thing you'll want to do is choose an essential oil.
And it is VERY important that you choose an essential oil that is GRAS (or, in long form, "generally recognized as safe") to ingest (and that just means in VERY, VERY small quantities – don't drink your essential oils). Not that you're really ingesting the oils. But this part is very important.
Here's a quick list of some GRAS essential oils that you could use:
Cinnamon
Tea tree
Anise
Fennel
Clove
Nutmeg
Orange (or sweet orange)
Lemon, lime, or grapefruit
Vanilla (but this would be HORRIBLY expensive, so only do this if you're Melinda Gates)
NOTE: One, in particular, that you might be tempted to use that you absolutely, 100% should AVOID is wintergreen – never put wintergreen essential oil in, on, or near your mouth.
I used a bottle of anise essential oil (which tastes like black jellybeans, which I know so many people hate, but I love them, so there). I've had this oil for a year and a half, and it never seems "right" for anything I make for my body. So – finally – I found the perfect use for it.
And you will, most likely, need at least an ounce of essential oil for this, in order to cover the entire layer of toothpicks that you're flavoring.
Get crazy and creative, too! Mix a couple of essential oils together to achieve something like … say … CINMAMINT? Or PIE SPICE? Or TROPICAL TWIST? Mmmm. Endless possibilities.
Gather Your Flavored Toothpick Necessities
In other words, this: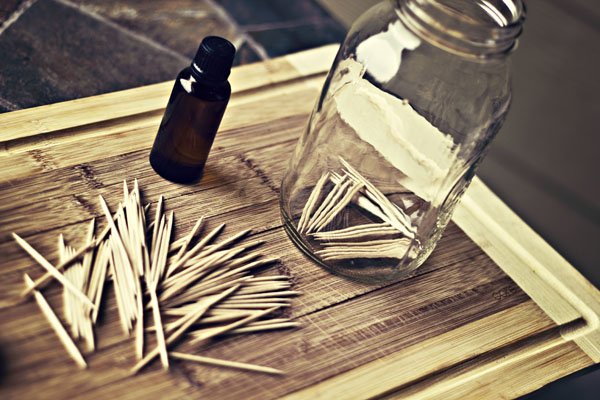 What you need:
Toothpicks
Your favorite oil
A jar with a lid
(Later, you will need paper towels and tongs or tweezers, as well as something to keep the toothpicks in.)
By the way, please make sure your jar is very clean (you can sanitize it in boiling water or with a squirt of hydrogen peroxide, to make things even cleaner).
Soak Your Toothpicks in the Oil – Overnight
Really, all you have to do at this point is drop a handful of toothpicks into your jar and shake them around until they form a single-ish layer over the bottom of the jar.
Pull the dropper top off the oil bottle, or else you'll be "dropping in" oil for a few hours.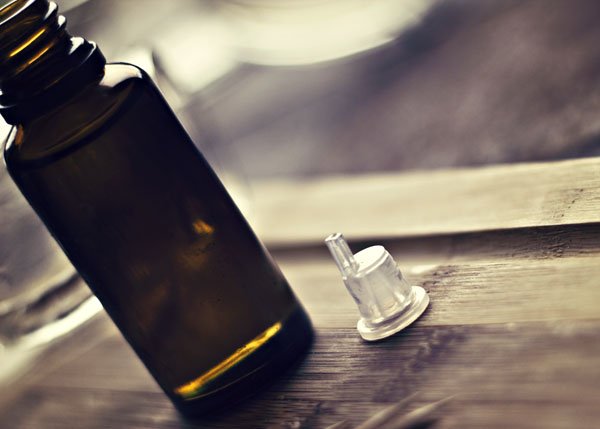 Then you pour the oil in over the top of the toothpicks.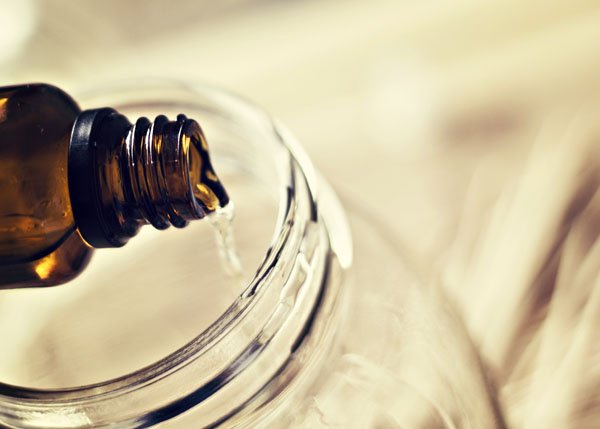 Please, whatever you do, don't try to take pictures of yourself pouring oil into the bottle, or you'll end up with a monstrous waste of a mess on your working area that will forever and always, until the end of time, smell like the oil you're working with.
My house smells like black jellybeans, and it probably always will now. I enjoy this. Skip wants to bonk me in the head.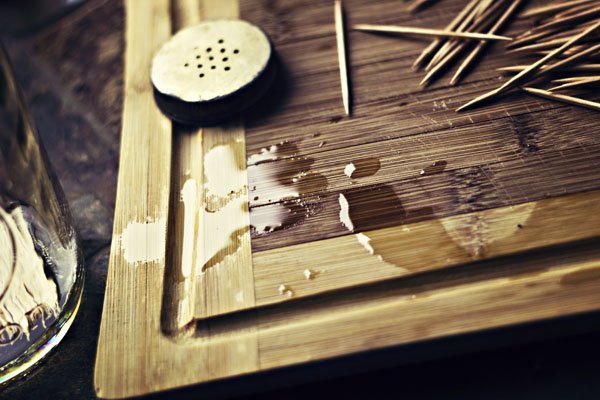 Once you've assessed that you haven't made a ridiculously stupid mess, turn your attention back to your covered toothpicks.
Give the toothpicks a few shakes in the jar to even them out completely, and make sure the oil is covering all of them.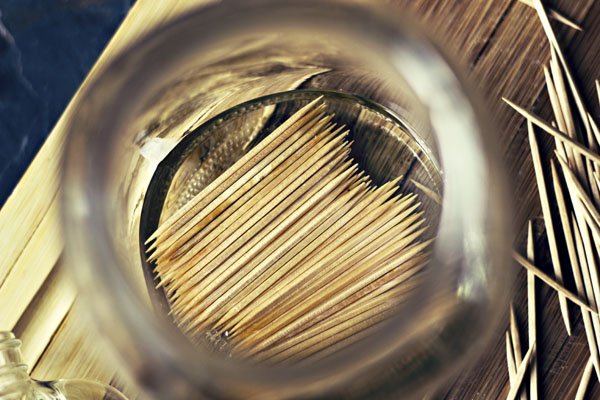 Now put the lid on the jar, put the jar on the counter, and walk away for at least 8 hours, or overnight (the longer you steep, the more flavorful the toothpicks will be).
The Next Day …
Now you want to carefully remove the toothpicks and leave as much oil in the jar as humanly possible.
Why?
You can reuse the oil to make more toothpicks whenever you so desire! Don't throw it away! (What a waste that would be!) More exclamation points!
Pull the toothpicks out using a pair of tongs or a tweezer (depending on how deep your jar is) and place them on a layer of a couple of paper towels or a very clean dish towel (that you wouldn't mind staining a bit or having it smell like your oil).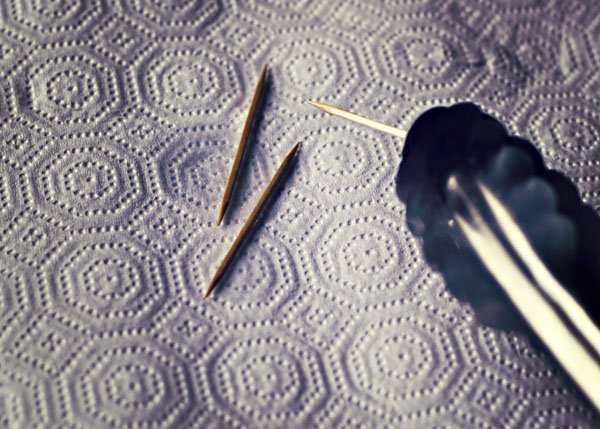 Give them a gentle pat with another paper towel or the top of your dish towel and leave the paper or dish towel lightly covering them.
Leave these alone for a few hours to dry.
Once they're dry, you can package them or use them. I recommend storing them in glass with a lid, or something very natural.
And, if you want to give them away in an adorable hand-folded envelope, here's what that'll look like: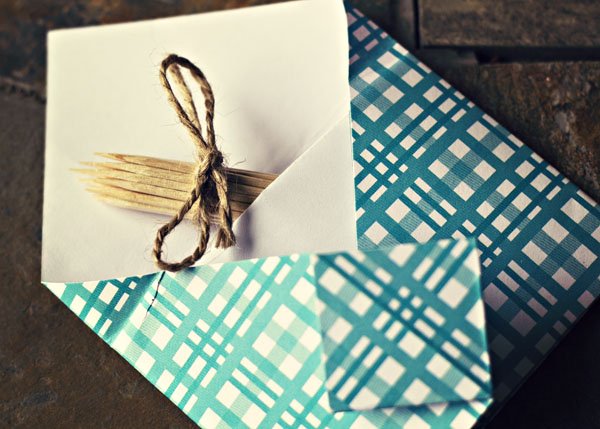 These are actually the envelopes that Skip folds for the Crunchy Betty's Natural Market Cleansing Grains Sampler.
They're SO easy – and once he learned how, it takes him no more than a minute to fold an envelope. This is a GREAT way to be savvy with your ecofriendliness and reuse paper or magazine pages. Check your local hobby store (like Hobby Lobby or Michaels) for sweetly designed scrapbook paper, too, if you want to make several of the same pattern/design.
Oh.
You get the "tinderness" joke, right? Because toothpicks are made of wood. And tinder is wood. And … my punny genius is such a turn on, isn't it? ISN'T IT?
Learn How To Fold These Envelopes: THIS is the most excellent tutorial Skip used to learn how to fold origami envelopes in this manner. Perhaps some day I'll do an actual picture tutorial here, but until then, visit this link and find your new obsession.
And It's JUST That Easy!
Carry these toothpicks around for a tasty treat whenever you're craving food (and need to wait to eat), give them out as "subtle hints," give them as adorable little gifts, or just keep them on hand because … it's fun!
And, not only are they great to use as tooth pickers, but most essential oils are antibacterial, so they'll also help keep your mouth in great shape (breath-wise and health-wise).
Awesome, yeah?
—
Oh, and as always, for those of you who are still wondering where to find these essential oils, here's your shopping for essential oils reminder: I HIGHLY recommend organic and/or wildcrafted essential oils (especially for stuff you put in your mouth or on your skin). These are my current favorites. 🙂