One of my favorite things about being "Crunchy Betty" is the way it really enhances the quality of conversation my friends and I have.
Before, our conversations would go something like this:
"Hey."
"Hey."
"Wanna go get coffee?"
"Sure."
"I dreamt about cheese last night."
"Cool. I like cheese."
Now, we share tips instead. This tip comes from my technologically obsessed, electronically gifted friend Ryan. I would trust him with the life of all of my ridiculously overpriced electronic goods, so take this in good faith.
He actually INSISTED that I share this recipe/tip with you guys, because it's worked so well for him. The cleaning of LCD, plasma, and other highly sensitive screens is no laughing matter (like, it really isn't, hahaha). I mean, really, it isn't. There are several do-and-don'ts you should follow when taking care of your electronics, specifically your screens.
So here is the wisdom Ryan shared with me, so you can prolong the life of your LCD/plasma screens, and save some money by NOT purchasing expensive screen cleaners (which are actually pretty much exactly the recipe I'm about to share with you).
Clean Your LCD and Plasma Screens With This 2-Ingredient Homemade Cleaner
Yes, it is seriously only two ingredients, but there's a little more you should keep in mind …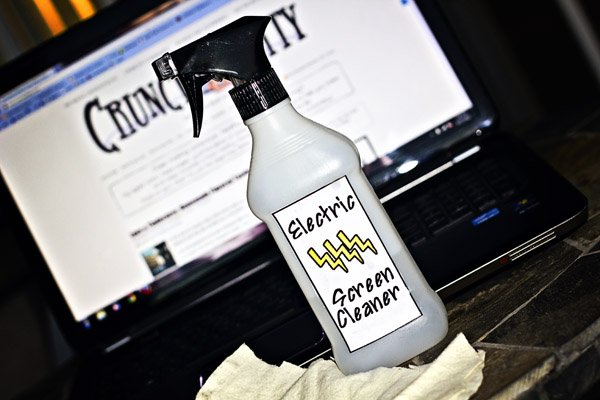 We'll do the recipe first, and then I'll share the Very Important Screen Knowledge at the end. This won't take long. Because … two ingredients.
Here's what you need:
Isopropyl alcohol
Distilled water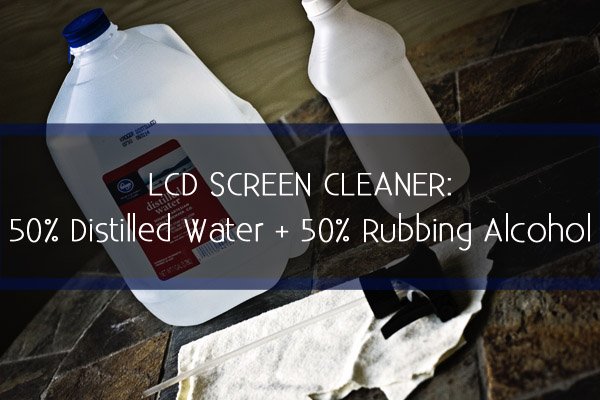 In equal quantities. And you don't even really have to measure. Just half and half. Easy as pie.
But if you WANT to measure, let's say, oh … 1/4 c. distilled water and 1/4 c. isopropyl alcohol (at least 70%). Isopropyl alcohol is also known as rubbing alcohol.
That is it.
They need to be in a spray bottle, though. And here's a cool thing I learned. I had a bottle of rubbing alcohol that was 1/4 full, so I filled it halfway with distilled water and then reached under my sink for one of the many wayward spray bottle tops I keep around (because they also fit perfectly on an empty bottle of Bragg's apple cider vinegar) …
And it fit! Perfectly!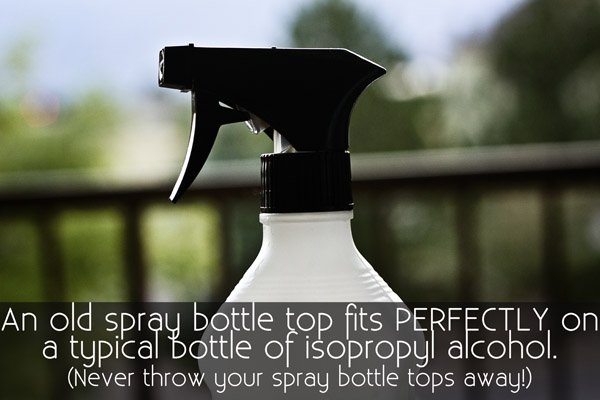 So, while you may want to ditch old bottles that cleaning supplies came in, never ditch the spray tops. You'd be amazed at how many different ways you can reuse these things.
Money-Saving Truth: I just checked the price for a well-known brand of screen cleaner (and remember, most of them are just about the same thing that our homemade cleaner is) and the price for 16 oz of a name brand screen cleaner is $13.73. Would you like to know how much 16 oz of my homemade screen cleaner cost me? $1.47. That is a savings of $12.76.
And now that you know how to make this spray cleaner, here are some things Ryan and the Internet suggest you keep in mind, to keep your screens crystal clear and gorgeous forever or until the warranty runs out.
LCD and Plasma Screen Cleaning Tips
First, you might be asking yourself, "Can't I just use Windex or Alvin Corn to clean my screens?" And the answer is … no. Not if you want streak-free, healthy screens. Windex contains chemicals that are harsh for delicate LCD/plasma screens, and Alvin Corn will leave behind residue on their unique surfaces.
So the first tip is:
When in doubt, use as few "ingredients" on your screen as possible. In fact, you may find that just dampening a clean rag with distilled water is enough. It's not for me, because I touch my laptop screen with my grubby hands. Why? Because I can. Don't judge me.
Next!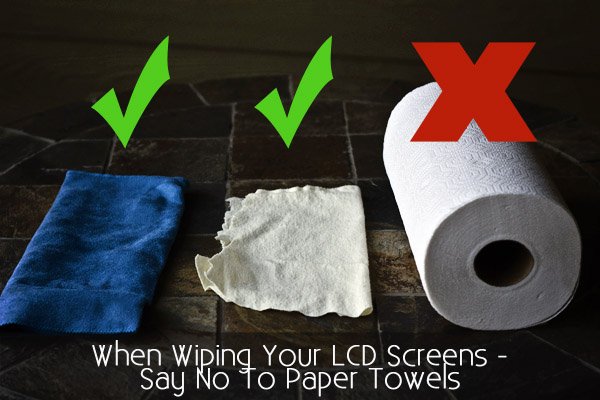 Don't use paper towels to wipe your screens (or any delicate glass like glasses lenses, etc.). Paper towels are scratchy, and they'll leave behind little nicks in your screen if you're not very careful. Only use very soft old cloths (like a soft, worn T-shirt or cotton flannel like I have pictured in the middle here) or microfiber cloths.
For as much as I enjoy reusing old things instead of buying new things, though, I have to admit that the microfiber cloth I have pictured did a much better job at cleaning our LCD TV screen without a hint of streaks. It's a very soft microfiber that's made specifically for delicate surfaces. (And I found it in the cleaning aisle of our local grocery store.)
Whatever cloth you DO use, though,do not use any fabric softener in the wash or dryer with it. Fabric softener will leave behind oils and other gunk that'll leave your screens streaky and worse off than they were before. Plus, fabric softener almost always = synthetic fragrance. Blech.
Next!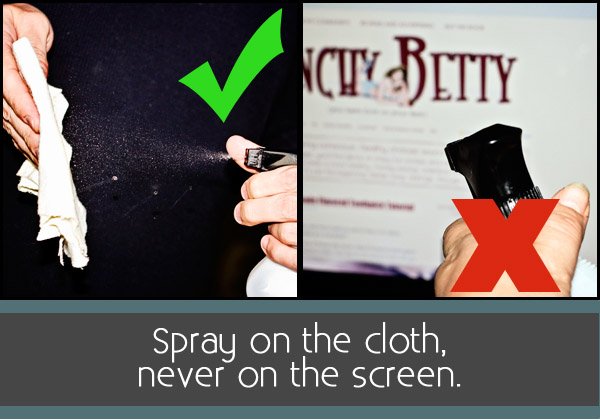 For some reason, this is a habit of mine that's hard to break.
Never spray directly on a screen or other electronic device. Why? Because you'll end up with water dripping into places where it DOES NOT BELONG. Like your hard drive. Or the corners of your TV screen. Or your cat.Always spray on the cloth first and then wipe. No drips. No fried electronics. No psychotic cat.
Next!
Only use distilled water for screen cleaning recipes – never use tap or "regular" bottled water. Tap and bottled water contains all sorts of minerals and other chemicals that will leave behind deposits and junk on your screen. Even filtered water doesn't remove all the heavy metals and minerals you want to avoid. Distilled water is pure and lacking anything that will eventually lead to build-up or a mucky screen.
And I think that concludes today's lesson from our good friend Ryan (and the Internet).
One last thing: You can use this spray combination for all kinds of things:
Plasma and LCD screens (of course).
Eye glasses
Windows/mirrors
iPad and tablet screens
Smart phone screens (and bodies)
Do you have any electronics care tips to share?