Confession: I cooked absolutely nothing over the holidays.
However, I thought a LOT about what other people should cook. That counts for something. Thinking is the hardest part, right? (Agree, so I can show Fiance.)
One of the things I thought the hardest about was a Beef Stew with Cinnamon recipe from the cookbook The Best Recipes in the World by Mark Bittman.
It's heavenly. Like … like you're eating home. Like home is in your stomach, and filling your nose, and making you feel all warm and snuggly and happy and …
It's good. Trust me. (And there's a modified recipe at the bottom, too. Even if you don't make it, you have to read it. My sister sent it to me years ago with her own hilarious commentary.)
Anyway, this recipe calls for red wine. So while I was thinking about someone else making this recipe, I was looking at the lonely bottle of red wine I have. I was sniffing it. I was cradling it lovingly. But I was not drinking it, because it had turned … slightly.
Perfect for cooking … and perfect for … wait for it …
Putting on your face.
It turns out, red wine is FANTASTIC for your face – regardless of skin type.
Red Wine and Skin Benefits
Okay, so we've all heard how drinking red wine can what? Improve heart health? Lower obesity? Improve your immune function? Bring world peace?
Seriously, though, while science continues to struggle to explain why, how, and how much wine actually helps your health, the French have been proving it unscientifically for hundreds and hundreds of years. With a diet rich in fatty foods and laden with red wine, femmes et les hommes suffer far fewer incidences of cardiac disease than nearly every other country in the world.
This has nothing to do with wine and your skin, but it gave me a chance to utilize my two years of high school French. Merci.
So what does red wine do for your skin?
It's supremely antiaging – the reservatrol and antioxidants whisk away free radicals that cause wrinkles and crepe-ish skin.
It softens the skin and sloughs off old cells, leaving behind fresher, younger skin.
Red wine helps balance skin tone and may even lighten skin just a bit (surprising, given its color)!
It's mildly astringent, so it's great for acne or tightening pores.
Frankly, you can use red wine – straight – on your skin. No need to add additional ingredients, if you'd like to skip them. Just pour a little on a cotton ball and swipe over your skin.
Or, do what Teri Hatcher does and pour a glass of it into your bathwater whenever you take a bath. (If you can afford it like she can.)
I went in search of inspiration for the mask I created here, and I have to admit I straight-up stole the addition of cocoa to the wine from Beauty Secrets Revealed. I just couldn't fathom a red wine facial mask without cocoa.
You with me here?
This one, though, has some extra softening and tightening action going on. It took about 15 minutes to dry, but it was WELL worth the extra ingredients. Here's what you need: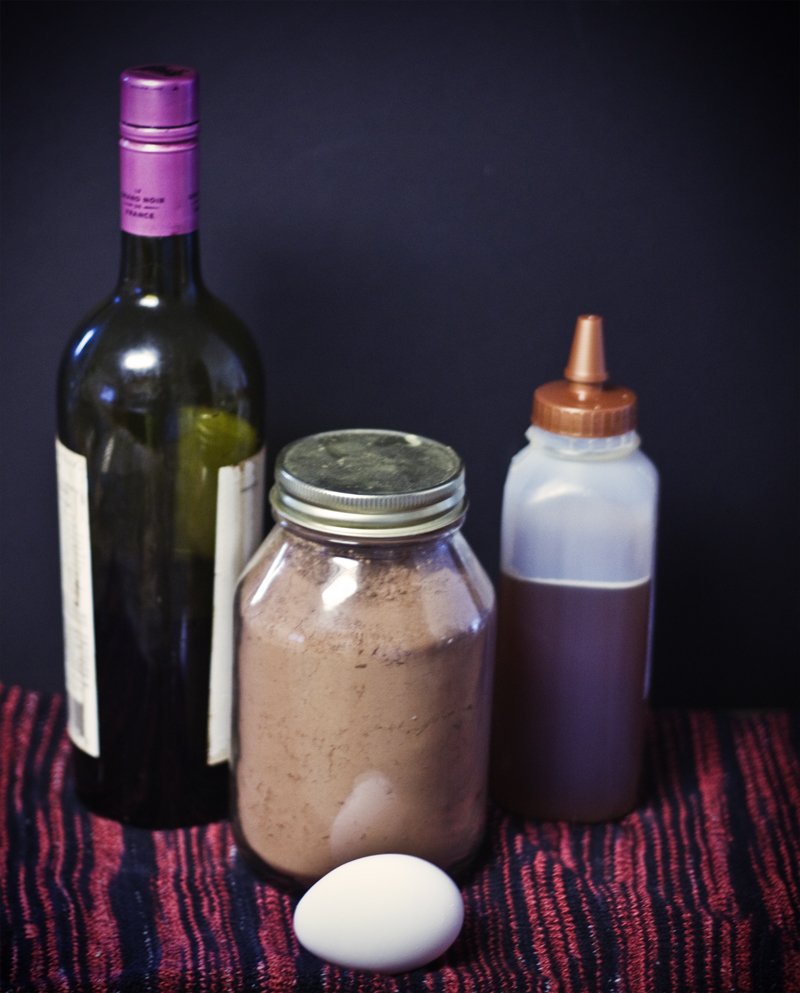 Honeyed Wine and Chocolate Facial Mask
2 Tbsp cocoa powder
1 Tbsp red wine
1 Tbsp honey
1 egg white
Clean small paintbrush or makeup brush for application
Mix the red wine, honey, and egg white together well until completely blended. Add the cocoa powder and continue to whisk with a small fork until smooth. The consistency will be a little jelly-like. This is good. With your clean paintbrush or other applicator (you could use your hands, it's just kind of messy), apply a thick layer to a clean face, avoiding the lips, so you can drink a glass of while while you let it dry for 15-20 minutes. Wash well with a warm, damp washcloth. Finish with a moisturizer.
Here's what your finished mask will look like. Kinda like chocolate pudding. A lot like chocolate pudding. Don't leave it on the counter if you have 7-year-olds.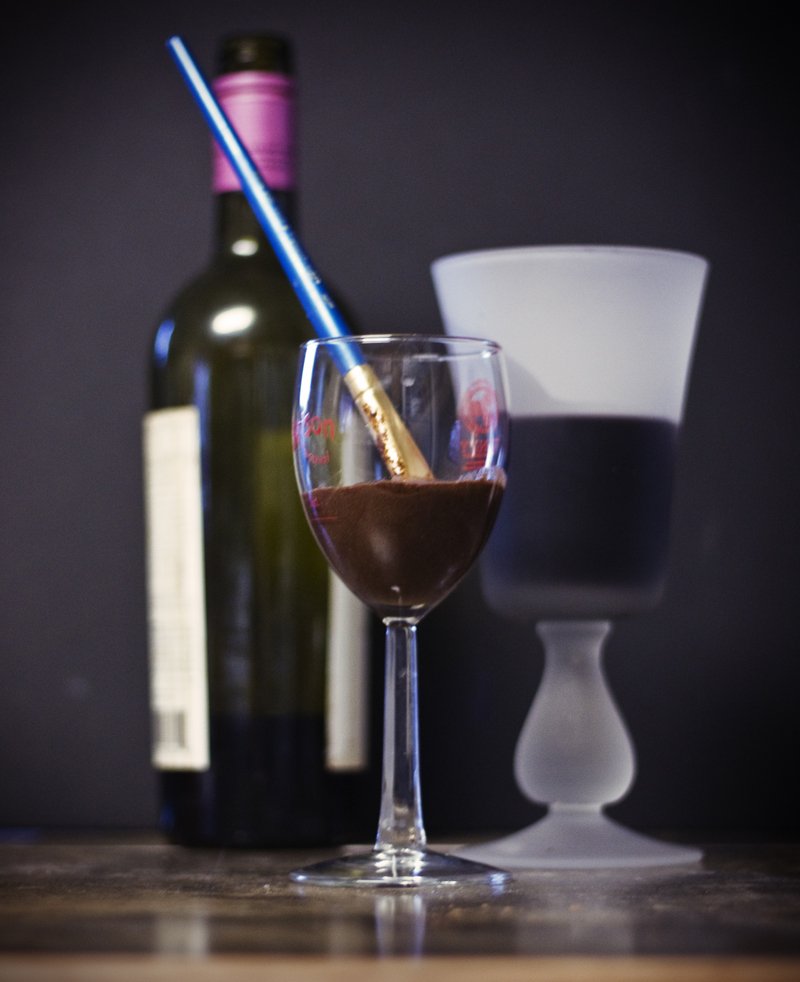 Beef Stew With Cinnamon
And now we've reached the food for your tummy portion. I knew I couldn't talk about this recipe without posting it. And I knew I couldn't post it without using my sister's version.
See, I was visiting a friend way back in 2007 and decided I wanted to make it for him. But I didn't have the recipe. Quel dommage!
Luckily, my sister had the same cookbook, so she typed it all out and emailed it to me. I've modified the recipe with the way I measure out ingredients (I also put it over noodles, because it's more like beef and gravy than stew). But I've used her instructions.
She is funny. Really funny (even if an Al Gore reference is a little, um, dated). Her commentary is in parentheses.
Enjoy!
Beef Stew with Cinnamon
3 Tbsp EVOO
2 lbs boneless beef chuck, cut into 1- to 2-inch cubes, fat removed
salt and pepper
1/2 onion, diced
15 pearl onions, fresh or frozen
3 Tbsp minced garlic
1/2 c. red wine
1/2 c. chicken or beef stock
3 bay leaves
3 cloves
1 tsp ground cinnamon
1 6-oz can tomato paste
1/2 c. red wine vinegar
2 packages frozen egg noodles
Put the oil in a skillet or flameproof casserole (NOTE – the book does not indicate you are to use a flameproof casserole dish … just a flameproof casserole. I'm not sure what a flameproof casserole is made out of, or where you can find one. I'm assuming that because you've made this recipe before, you will have this information) with a lid and place over medium-high heat. Brown the meat on all sides, seasoning it with salt and pepper as it cooks and turning it only when each side is browned. As the meat browns, remove each piece with a slotted spoon. (If you don't use a slotted spoon, your big toe will turn purple.)
Pour or spoon off most of the fat and brown the chopped onion lightly over medium heat. Remove and add to the meat. Add the pearl onions and brown them quickly. (The book doesn't indicate how quickly. My guess would be 0.5 seconds. You don't want to risk it.); remove them and set aside separately. (If you put them with the other onions, they are more likely to become victims of gang violence … or Sharpay from Disney's High School Musical 2.)
Add the garlic to the pan and cook, stirring occasionally, for about 30 seconds. (Sure, for this one they give you a specific time …) Return the meat and chopped onion along with the red wine, stock, bay leaves, cloves, cinnamon, tomato paste, and additional salt and pepper. Cover tightly and adjust the heat so the mixture simmers gently. (If it simmers roughly, you can forget about the possibility of Al Gore running in 2008.) Cook for about an hour, or until the meat is fairly tender. (You can test its tenderness by asking it out on a date and seeing if it holds the door for you and only asks for a kiss goodnight and nothing more.)
Add the vinegar and pearl onions and continue to simmer until the meat is very tender (reference above to test tenderness), roughly 30 minutes more. (This roughly is different than the risk you take by not ensuring the mixture simmers gently. This is an inconvenient truth …)
Pour the mixture over the egg noodles and eat up!
So there you have it. A yummy facial recipe and a yummy tummy recipe.
For the record, I HIGHLY HIGHLY HIGHLY recommend this cookbook – The Best Recipes in the World. I've made countless amazing things from it, and it's the first book I crack open when I'm looking for something new to try. Haven't been steered wrong ONCE by it.
I even look there before I look at Epicurious.
That's right. A real-live book is beating out a website.
Anyway … looks like it's time to go to the liquor store!
You're welcome.
(For the excuse.)