Before you start reading this, I want you to grab your rosemary essential oil (or a squished fresh rosemary leaf or even some cracked dried rosemary) and take a deep whiff. Why? Because it will help you retain all this information.
Done? Read on.
Have you still been working on thinking outside the box? Was Tuesday tough?
I don't know why I'm asking, because while some of you shared some extra fun ideas – and I didn't have to add a single one, because you covered all of mine – for the first part of the day it was *crickets* in the comments.
So, to help you prepare for the rest of the month – and the rest of your life, young grasshoppers – I want to share my very favorite way to use essential oils. Ever. Even more favorite than clearing my stuffy nose with 'em.
I love to use essential oils to make my brain smarter, quicker, and clearer. If you want a little help getting your brain geared up to "think outside the box" this is one heckuva place to start.
The best thing about using essential oils in this manner is that, if you're in an "accepting" mindset, you'll see results immediately.
When I say "accepting mindset," I mean that you have to want to feel quicker, clearer, and more alert. At least, this is how it is for me. Whenever I try to use them, but I've decided that I'm a big, slow lump of blah, that's what I remain. Nothing will change it.
But if you combine the effectiveness of the essential oils with the magnanimous power of your own mindset, you get an instantaneous lift, a rapid clearing of the fog.
This leaves you ready to learn more, think extra creatively, and just be an all around whip-smart conversational companion.
5 Favorite Essential Oils for Mental Clarity
While there aren't volumes of scientific studies to back up the claims that these essential oils actually help your brain, there is hundreds of years (if not more) of traditional wisdom that confirms it.
However! Much has been studied about one of these essential oils, especially, in terms of how it affects the brain – and the results of the studies are excellent. (Yes, of course, we're talking about rosemary.)
Here are the 5 Favorite Essential Oils for Mental Clarity:
Basil
Juniper Berry
Sage or Clary Sage
Rosemary and clary sage will probably always be my two favorites, but I've recently discovered juniper berry – and it is a fast and quick love.
If you want to know where to get these essential oils? Check your local natural foods store, pop over to Mountain Rose Herbs, or check out Vitacost.
Now that you know what to use, here's how to use them.
How to Use Your Essential Oils to Clear Your Mind
There are several different ways in which you can harness the aromatherapeutic power of these essential oils. I'm going to give my favorite three ways (which also happen to be the easiest ways), but I'm sure you guys can think of more.
You know, thinking outside the box and all.
Use the Ever-So-Easy Pot and Water Method
If you're okay with filling your entire house with the scents of these essential oils, the quickest, most inexpensive, and easiest method is simply to drop them into a small pot that's filled a little way with water.
Let the water heat up just until it's steaming, and then turn down the heat and leave it on the burner for a few minutes until all the oils have evaporated into the air.
Or, my favorite thing to do, walk around the room/house with a pot of steaming essential oil water, so it fills the air with the healthy goodness. Be careful not to drop it, though.
Add Your Blend to a "Homemade Solid Perfume"
Instead of using your homemade solid perfume as, well, a perfume, why not turn it into a mental clarity balm?
Choose a blend of your favorite brain-boosting EOs (or just a single EO, is fine, too) and swap it for your more perfumey oils as you're making the recipe.
Then, when you need a brain pick-me-up, just dab a small bit of the perfume on your temples or just under your nose.
Voila!
Pick Up An Inexpensive Candle Diffuser
This is the method I use at night if I'm writing in my bedroom, so I don't fill up the whole house with essential oils that might otherwise keep people awake.
An aromatherapy candle diffuser looks like this (only yours might not be quite so dusty):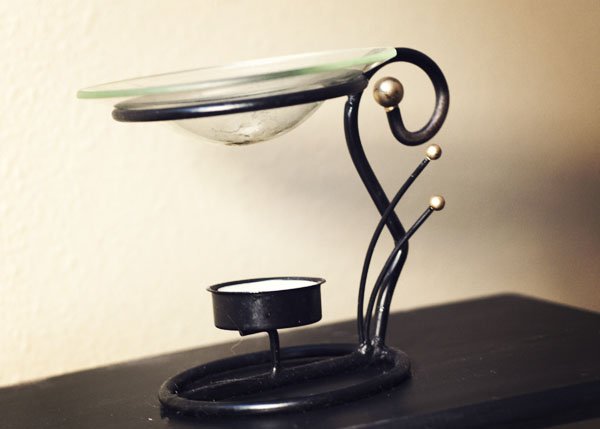 You just drop the essential oils in the top bowl and then light a tea light underneath. The heat from the tea light evaporates the essential oils into the air around you.
Where can you buy them? Nearly anywhere that sells essential oils, including Mountain Rose Herbs (which carries gorgeous soapstone diffusers) and Vitacost.
Mind Food Essential Oil Blends
Any of the above essential oils can be used singularly to help enhance your brain power and boost your mental clarity; however, if you want to get fancy and up the effectiveness, blend three of them together in a mix that's pleasing to your olfactory system – or add one or two to another of your favorite essential oil (lemon or lemongrass, too, help with your energy levels – so don't forget those)!
If you want to use them in "larger" quantities, as in filling your whole house with the scents, you can double or triple the blends.
Here's my favorite blend:
Crunchy Betty's Mind Food Blend
4 drops juniper essential oil
3 drops rosemary essential oil
3 drops clary sage essential oil
And here's a blend I found in a book I JUST bought today (Mary Lee's Natural Health and Beauty):
Mary Lee's Mental Alert Blend
6 drops eucalyptus
2 drops peppermint
5 drops basil
And one from my favorite aromatherapy site, Aromaweb:
Aromaweb's Memory and Concentration Blend #3:
1 drop basil
2 drops rosemary
2 drops cypress
Any Outside-the-Box Ideas to Increase Mental Clarity?
Do you have a favorite essential oil that helps you out in the brain department? I'd love to hear about it!
Or, do you have a completely different way you get your mind geared up, crystal clear, and ready to rock the intellectually creative world?
This is the time to share!
Please note: Due to excessive spamming on previous essential oil posts, I'm implementing a policy of no personal links to your own "essential oils" sales sites. You know which brands I'm talking about. No MLM, pretty please and thank you. : )