Meet Binky. She's a good robot, as far as robots go. She's a little immodest, but we won't hold that against her.
Binky serves two purposes. She gives and she gets. When she gives, it is good. What she tries to get, her inventor believes is good, too.
Her only real downfall is that she cannot give and get at the same time. It's troublesome to Binky and those around her, but her inventor couldn't figure out any other way.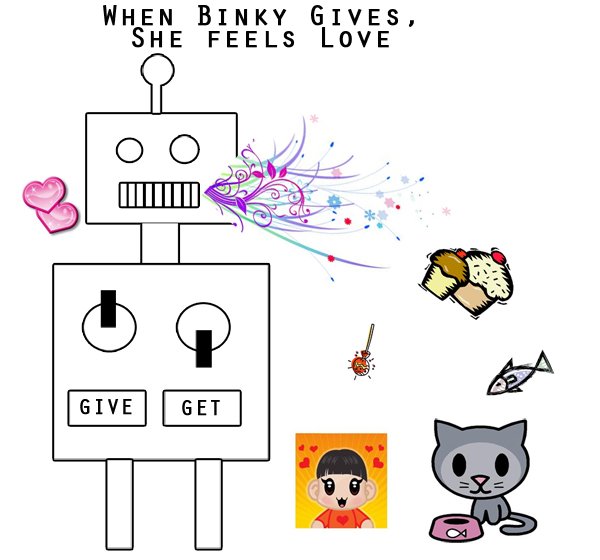 And unbeknownst to him, she feels things. Rudimentary things.
Like love and want. And sometimes deep melancholy over the state of robot working conditions.
When her "give" button is switched on, she feels love. Connected.
When she's switched on to give, she pours things out like fishes for kittens, lollipops for kids, and Microsoft Office clipart for me.
This makes her feel very, very good. She feels connected with those she's giving to. Like she's a part of their world; like she's invested in their happiness.
But her inventor is afraid she'll burn out if she just gives and gives all the time, so sometimes he switches her questionably positioned knobs to "get."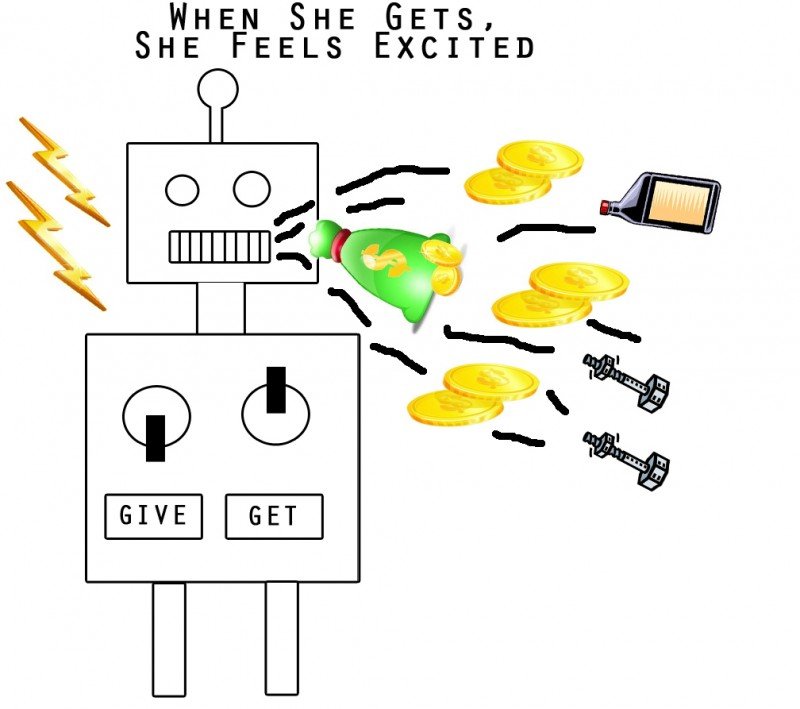 Getting is exciting for Binky. She loves the way it feels.
When she's switched on to get, that's all she can think about. Get get get get get. How much more can she get before her inventor switches her over again?
That's what she wants to know.
So the longer he keeps her switched on to get, the more she doesn't want to give. The more she doesn't want that dadgum switch to flip. If only he'd give her a little more time. IF ONLY HE WOULD LET HER GET MORE SHINY STUFF.
And the longer she's switched on to get, the harder she makes it for her inventor to turn those switches around.
Observing this quandary, he eventually learns that if he leaves her switched on to get only 2 hours a day, and on to give for the rest of it, he's reached an equilibrium. But this only works if he remembers to switch her.
One day he forgot. For 24 hours. She was getting. And getting. And getting. To the point where she didn't care who she was getting from or where she was getting it. SHE WAS GETTING AND IT WAS SO GOOD SHE WOULD NEVER STOP OH YEAH BABY THAT'S IT.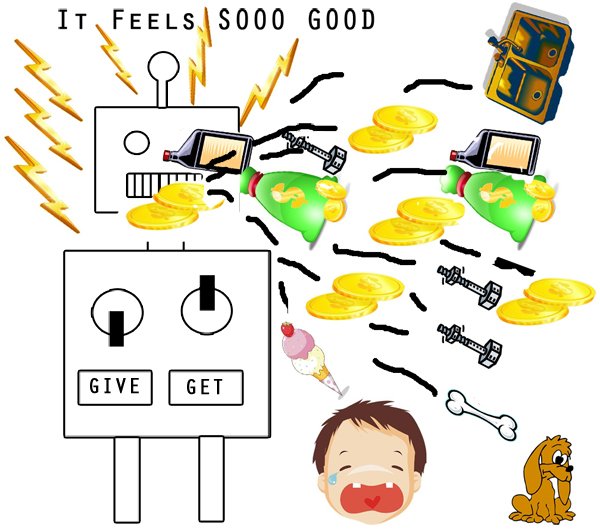 Eventually the inventor had to give up trying to switch her. She was stuck that way. Forever. And always.
The world was her oyster. And, eventually, she swallowed the world, too.
Binky Is Your Brain
Our brains do many things, and many things excite and arouse it – in wholly different ways.
The two areas we're talking about right now are the nucleus accumbens (the pleasure center) and the posterior superior temporal sulcus (the altruism center).
From now on, we'll just call them the pleasure center and the altruism center. It's easier to type.
In the book Sway: The Irresistible Pull of Irrational Behavior, the authors Ori Brafman and Rom Brafman delved into studies that were done on both these areas. In these studies, participants were told to play rudimentary video games while hooked up to MRIs – the first time with the aim of gaining or losing money for themselves, and the second time with the goal of earning money for charity.
What they found was that when people are focused on the concept of earning money for themselves, the pleasure center lit up like a Christmas tree.
The pleasure center, by the way, is considered one of the "reptilian" and older portions of the brain – and it's responsible for receiving pleasure (of course), but it's also what's responsible for things like drug addiction, getting excited from gambling, and desiring sex. In order for this part of the brain to continue receiving pleasure, it must have more and more of what it craves, if you continue to feed it on a regular basis.
This includes money. More specifically, the act of acquiring money or receiving monetary gain. Money seeking, therefore, can be an incredibly addictive behavior.
And wholly self serving.
When the study participants played the video game to donate to charity, an entirely different portion of the brain lit up. You guessed it, I'm sure. The altruism center.
This is the area where we process the feelings of things like compassion, connectedness, unity, forming bonds, and social interactions. The area where the concept of "oneness" takes place.
It takes much less "feeding" to get this area to light up. A little giving and compassion goes a long way, in your brain's world.
Now, here's the kicker: These two areas of the brain cannot – under any circumstances – be active at the same time. There is no way you can simultaneously be seeking money for yourself while feeling compassion and altruism toward other people.
No way. It's impossible.
You cannot be self serving and compassionate at the exact same time.
The Camel Made It Through, But the American Dream Did Not
If you consider that pleasure-seeking (especially via monetary gain) is addictive, and that you physically cannot be altruistic if you're focused on self-serving pursuits, you can see a little of why the financial system is in ruins now.
The American Dream (which was spread, so graciously, throughout the world) was based one one thing: More. More money – more money for you, more money for your family. More.
If you weren't searching for more, if you weren't capitalizing on more, then you were not living the American Dream. You were pathetic and poor and lazy and shifty. (Sometimes this was true, but most of the time it was an incorrect perception.)
And not only did everyone buy it, but they wanted to buy it so badly they were willing to shut off all the circuits that lead to community and connectedness.
And it was a drug. Eating the world was a drug. And that drug was not only sanctioned and encouraged by the leaders, it was fed to us through our televisions daily.
If you suspend your beliefs for a moment and consider that perhaps heaven is unity, that heaven is that experience of connectedness and oneness with all creation, then perhaps when Jesus said, "It is easier for a camel to pass through an eye of a needle than for a rich man to enter heaven" he was talking about your brain on some esoteric level.
I don't know. I'm no theologian, but that's the very first thing I thought of when I read that portion of the book.
Needles popped up. Camels went through.
And the American Dream no longer looked like a road to utopia at all.
So What Is the Answer?
Honestly, I don't know.
You tell me.
This is precisely, and blatantly obviously, why I struggle with allowing myself to fully pursue monetary gain.
I think it starts with consciousness, though. Being conscious of what you're switching "on" more often.
We cannot change the world. We can only change ourselves.
And this is somewhere to start.
Use your Binky wisely.