Remember that time I disappeared for a week? Somebody thought I fell off the face of the earth, abducted by aliens and stripped of the law of gravity (which allowed the falling, tumbling, and screaming). That didn't happen.
Instead, I hopped – on a whim – into a car and drove to Kansas City to pick up my mother from my sister's house. During that time, kissing babies and oatmeal ensued. (I did not kiss oatmeal, though it was considered).
My sister makes the gol-darned best oatmeal in the whole entire world, so while I sat and drank a cup of coffee, I asked her to make her carrot cake oatmeal while my mother took pictures of it. This was the easiest way I could think of to blog. I was on a whimsical vacation. I deserved this.
So now that you understand where I was, what I was doing, and that the drive all the way across Kansas – alone – is a little like slowly pulling out fingernails with a rusty pair of pliers while driving behind 200-year-old turtles in 75 mph zones with a constant loop of "There's a Tear in My Beer" on the radio, please enjoy this oatmeal recipe.
It's full of fiber, protein, beta-carotene, minerals, calcium, vitamin C, and love. If love has a taste, this oatmeal is it.
Here's how it goes:
Crunchy Sister's Carrot Cake Oatmeal
Here is everything you need to make this incredible, healthy, action-packed oatmeal: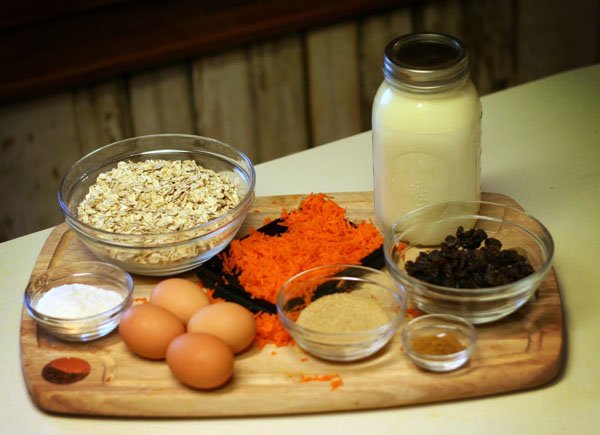 The first thing you need to do is grate some carrots – about 2 cups.
It's handy if you have an adorable 2-year-old to watch in wonder.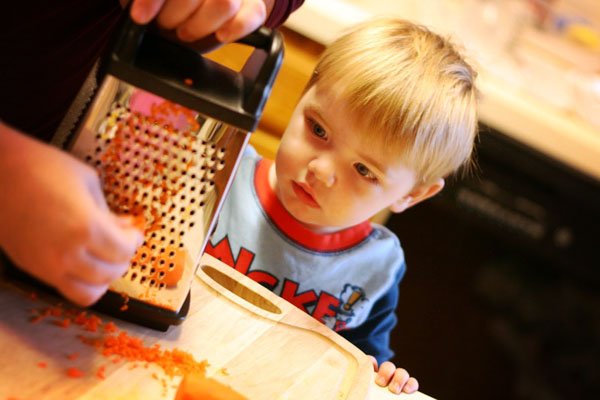 After you've grated your delicious, nutritious carrots, combine 3 or 4 eggs with 2 cups of milk, whisking well.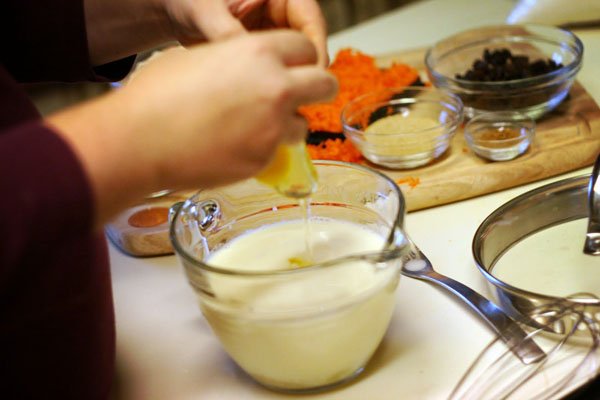 Now, pour 3 cups of whole, organic (hopefully) oats into a big old pot and pour the milk/egg mixture over the top. Turn the burner onto medium low.
Stir.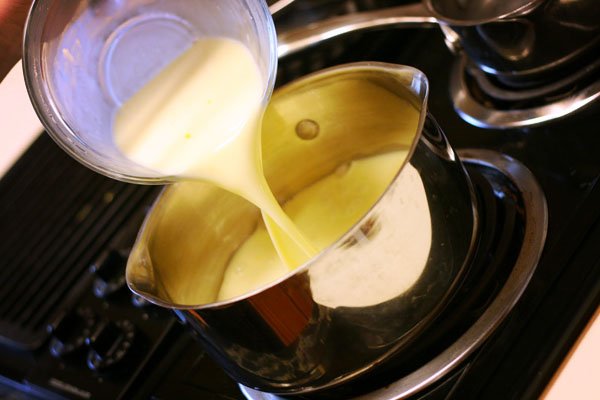 After you've stirred your oatmeal base well, and its started to warm just a bit, you then put on your Swedish Chef hat and say "Dur prunig her de burr bork bork bork carroter bur bur."
(If you don't have a Swedish chef hat, you can substitute a dish rag. Paper towels are not acceptable.)
Passionately, if not a bit haphazardly, toss in your carrots, 1/4 c. raisins (iff'n you like raisins), 1/4 c. maple syrup (or 3-5 Tablespoons of sugar), 1/2 tsp nutmeg, 1/2 tsp cinnamon, and 1/2 tsp ginger.
Find a 4-year-old who loves to stir (or just do it yourself, Chef) and mix everything together really well.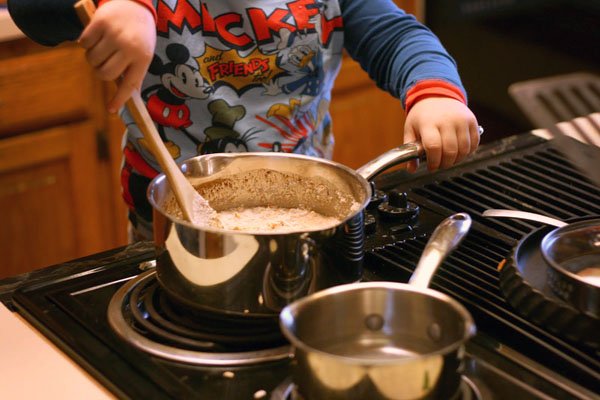 Let this sit, on medium low, for 15-20 minutes or until you've reached your desired oatmeal consistency. Stir every so often, if you have the desire to micro-manage. At some point, you can pour in 1/8 c. chopped walnuts if you want, or just wait and sprinkle those over the top at the end.
The longer you cook it on low-ish heat, the creamier it gets (that's my sister's special tip).
Eventually, it will look something like this: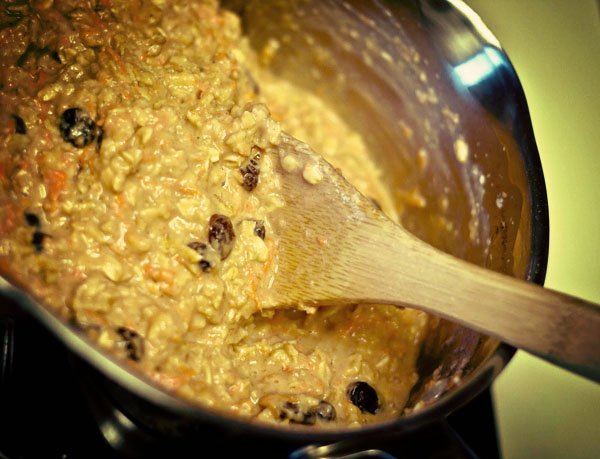 When it looks like that, you eat it.
And your children eat it.
And they will look something like this: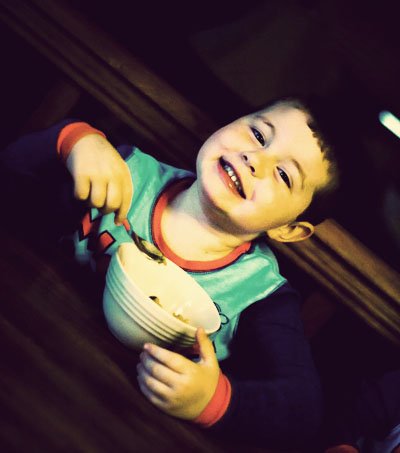 And also like this: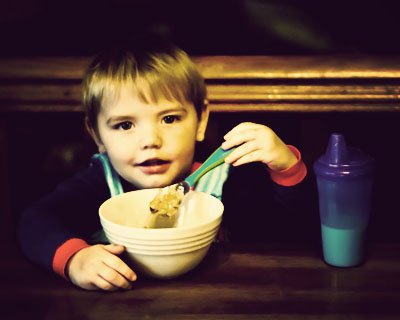 And as my sister loves to say, "In case you missed it, that's vegetables for breakfast, my friends."
Crunchy Sister's Carrot Cake Oatmeal Recipe
2 c. milk
3-4 eggs
3 cups of oats
2 c. finely shredded carrots
1/4 c. maple syrup (or 3-5 Tbsp sugar)
1/2 tsp nutmeg
1/2 tsp cinnamon
1/2 tsp ginger
1/4 c. raisins (optional)
1/8 c. chopped walnuts (optional)
Shred your carrots. In a small bowl, whisk together the milk and eggs and pour into a pot. Add the oats, and turn the burner on your stove to medium-low. Stir well. Toss in carrots, maple syrup (or sugar), spices, and raisins. Combine well. Leave to cook on medium-low for 15-20 minutes or until you have your desired oatmeal consistency. Stir in the walnuts (or top each bowl with walnuts). Enjoy! Have energy for the rest of the day! Feel warm and cozy inside! Love.
Now Back to Your Regularly Scheduled Crunchy Betty
I'm well rested. Energetic. And full of crunchy mojo.
We have a lot of fun things coming up, to say the least.
The challenge is on its way, but we're going to condense it to 1 week and focus mainly on getting together a Natural Medicine Cabinet full of remedies for winter woes.
In the meantime, please enjoy this picture I took of my sister's baby (I didn't want her to feel left out):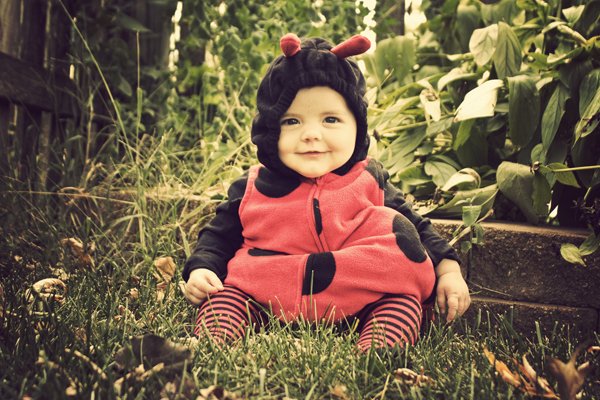 How have YOU been? What have I missed?