Good lord!
Blogging is so complicated these days. I feel like an old man who's never seen one of them new-fangled computerizer thingies.
I'm heartsick and nostalgic for the Diaryland days of yore, where you wrote, maybe uploaded a picture, and 800 people LOVED EVERY WORD.
Now there's Twitter and RSS feeds and gobblediwhatsit social network plug-ins for letting everyone know every time you pick your toes.
Never would I have thought I fell so far behind in taking a few years off from plugged-in life.
I'm SOOOOOOOOO OLDDDDDDDDDD!
This morning, I woke up feeling like I was never going to catch up or get the hang of this, so … I put food on my face.
Nothing like good, old-fashioned food smearing to make you feel like a 2-year-old (who, coincidentally, probably knows more about social networking and blogging than I do).
The main ingredient – PAPAYA!
PAPAYAS, STRAWBERRIES, AND BANANAS – OH MY!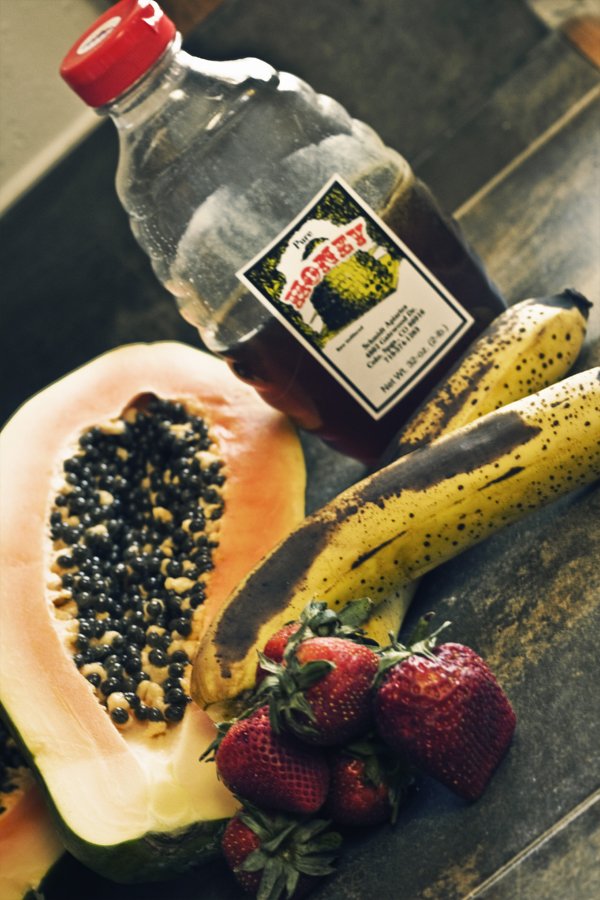 Why would you want to put papaya on your face? First off all, because it's all the rage. Secondly, the enzymes in papaya are WONDERFUL for sloughing off dead skin and reducing the signs of aging. In terms of food on your face in the name of beauty, papaya is probably the holy grail.
In this recipe, I also included bananas. Mostly because they were starting to turn and I really needed to use them, but also because bananas are WONDERFULLY moisturizing for your skin.
And strawberries! Strawberries also, as I'm sure you know, contain a bucketload of vitamin C – great for skin – but they're also magical for helping combat oiliness and acne.
The honey, a main staple in almost all facial recipes I create, is antibacterial, moisturizing, and super tasty.
Yes. You can also eat this. I recommend it.
Now, before you go on to make this yourself, I will say that this recipe makes a ginormously huge amount of product. If you're just making it for two or three applications, you'll want to quarter the recipe. I made a lot, though, so I could give it to my friends! (You're welcome.)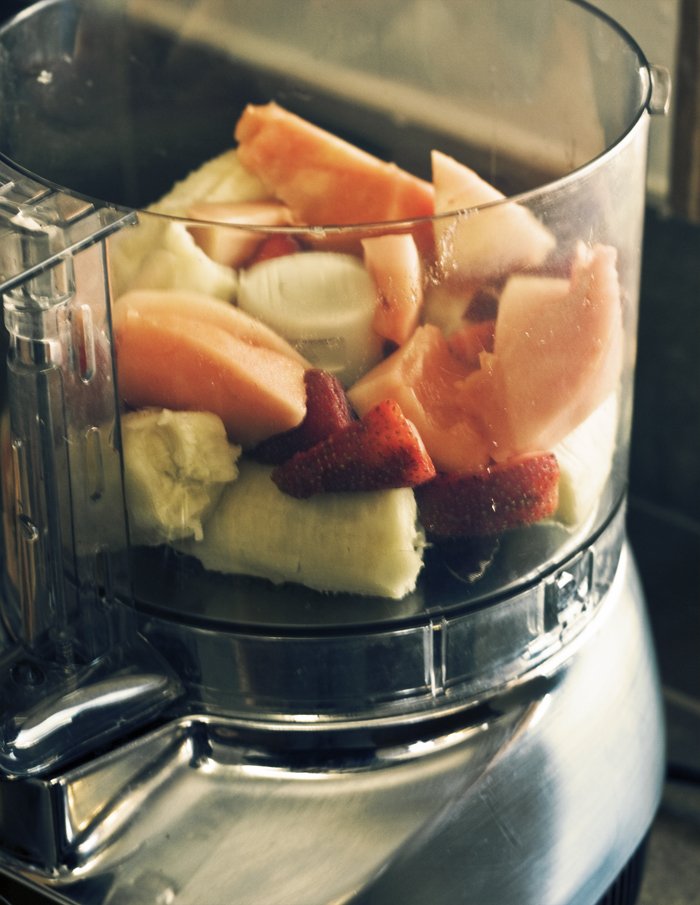 PAPAYA FRUIT SMOOTHIE FACIAL MASK RECIPE
1/4 peeled, seeded papaya (i.e., half the papaya, and then half it again)
5-6 strawberries
2 ripe bananas
4 Tbsp. honey
1/4 c. wheat germ (optional)
1/2 c. finely ground oats (optional)
First, prepare all your fruit by peeling, seeding and chopping it. Toss everything into your blender or food processor, and add the honey.
Blend until very, very smooth.
At this point, you could use the facial mask just the way it is, in all its fruity goodness. Simply apply a thin layer to your clean face (avoiding the eyeballs, please) and let it dry for about 10-15 minutes.
Or, alternatively, you could add a "scrubbing" and thickening agent, like I did today. I used wheat germ and finely ground oats, both for their great skin-boosting properties, and to give it more of a scrub feel at the end. If you want to go the complicated route, like I did, just put the wheat germ and oat powder in the fruit mixture and pulse a few times to mix it all in. Apply as above, and let dry for 10-15 minutes.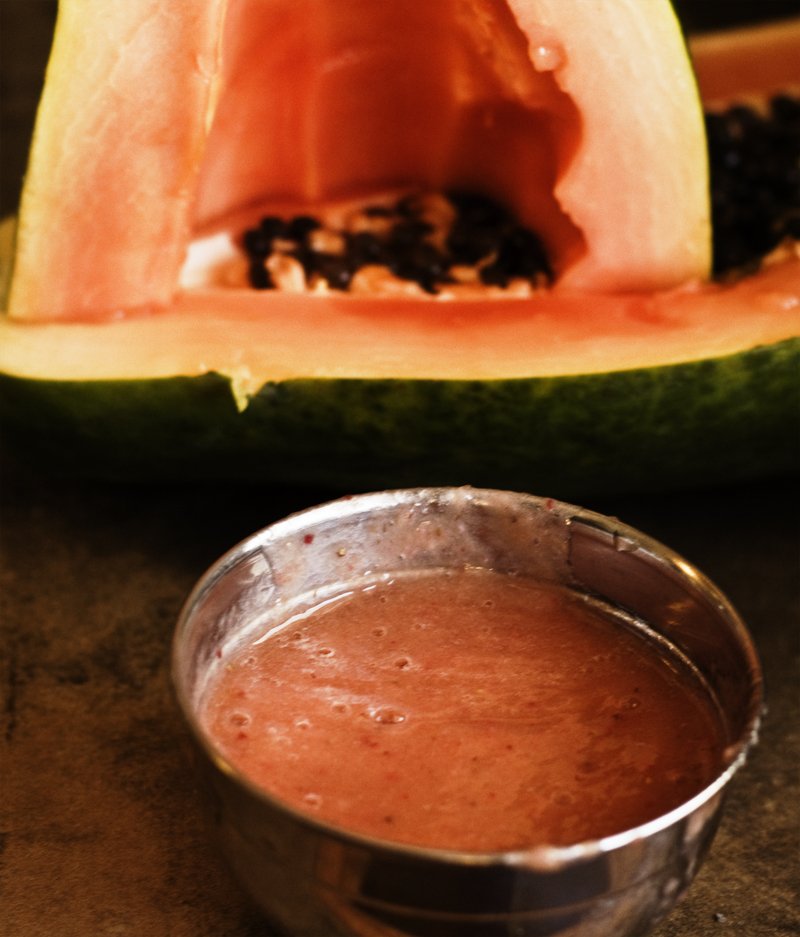 When you've had enough of looking in the mirror at the food on your face, and 10-15 minutes have passed, simply take a warm, damp washcloth and apply it to your face, scrubbing gently to loosen the mask. Scrub it all off, and then rinse a few times.
And … done!
This mask will keep well in the refrigerator for 3-5 days, so use it daily for a while to see a marked difference in the texture of your skin.
.
NOW WHAT?
So here we are with three-quarters of a papaya left. And I have no clue what to do with papaya.
I headed over to Zen Kitchen to see if she had any papaya recipes, and came up with a mouth-watering recipe for mango salsa that you can substitute with papaya.
My afternoon is going to be soooooooooo yummy!
As usual, please let me know if you try this recipe or any variation thereof, and how it turned out for you!
Happy papayaing!