In this entry, you will learn about fennel.
You will get some superb beauty recipes using fennel.
And then it will all climax into this crescendo of surprising oohs and ahhs when you see what happens at the end.
If you don't want to learn anything about fennel, skip to the end now. But, just like a first date, if you skip to the end without learning more over a salad and three cocktails, you're probably not going to get a call back the next day.
So pour a vodka tonic and get ready, because you're about to see if you're compatible with the fennel.
I'd venture a guess that you'll probably figure out the surprise ending WAY before we get there.
Because you're smart.
And sexy.
The fennel thinks so, too.
That Thing Fennel Does for Your Skin (and Tummy and Sexiness)
There's this Indian restaurant here in town that has a bowl of fennel seeds at the register. You chew it after you're finished destroying the buffet. It soothes your stomach and it freshens your breath.
I go to this Indian restaurant just for the fennel. Never mind that I have a jar full of fennel seeds at home – the luxury of chomping on Indian restaurant fennel postprandially is worth it.
So, first of all here's what fennel does for your tummy: It soothes it. Easy. If you have a stomach ache or queasy tummy, chew on some fennel seeds. Or, if you don't care for the seeds in your teeth, make a cup of tea with fennel seeds – about 2 tsp seeds to 1 c water. Let it steep, strain, and then enjoy.
Fennel has a lovely licorice-type taste to it that drives me wild. It drives a lot of people wild, actually, because it's one of the most potent herbal aphrodisiacs there is.
So that's what fennel does for your libido: It drives you wild.
You know what else? Ancient Roman women used to eat fennel regularly to help keep a trim-ish (have you seen those Roman statues?) figure. Fennel has been used for centuries in weight loss. Probably because it aides so magnificently in digestion (see soothing tummy). You don't have to use fennel seeds to see this benefit – any part of the fennel plant will do.
But let's talk about fennel in skincare.
Fennel for Your Skinnel
Fennel is used in myriad skincare products, and for good reason:
It's antiseptic and diuretic. This makes it perfect for puffy, oily faces. But wait! There's more! It's also VERY softening and great for wrinkles. This makes it perfect for puffy, oily faces that are starting to get fine lines in the corners of the eyes.
This makes it perfect for people like, um, me.
It'll also treat your acne very, very well. And, in a minute, I'm going to give you a recipe that you can use every single day to utilize the power of the fennel.
Here's one quick use for fennel and puffy eyes: Make a strong tea with fennel seeds and allow to steep for 5 minutes. Strain and refrigerate the fennel infusion until cold. Soak two cotton pads or a washcloth with the cold fennel water and apply to eyes for 5 minutes.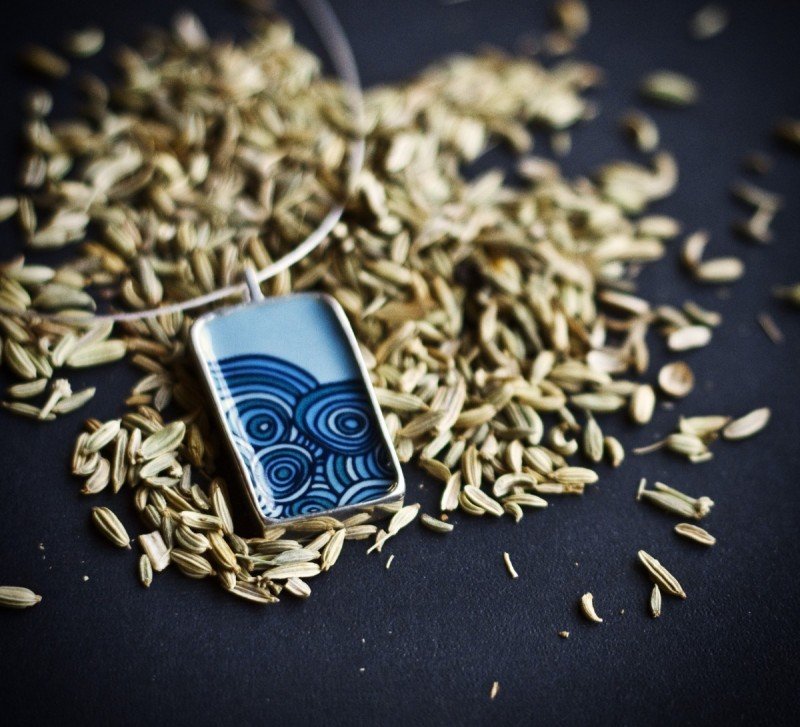 Fennel and Rosemary Facial Steam and Toner for Oily Skin and Acne
2 tsp fennel seeds
1 tsp dried rosemary
2 c. distilled water
2 Tbsp witch hazel or apple cider vinegar
Towel
Small container with a lid
Start with a clean face.
Steam: Add the fennel and rosemary to the water in a wide-mouthed pot. Bring to a boil. Remove the pot from the heat source (and get far enough away from the stovetop that you can't touch the towel to the burner). Immediately drape your head with the towel and lean over the steam – keeping yourself far away enough that you don't burn your face. Allow the steam to pour over your face for at least five minutes.
Pat down with a dry towel and finish with a toner and a moisturizer.
Toner: Reboil the remaining water/rosemary/fennel for 2 minutes and then remove from the heat. Allow the fennel and rosemary to steep for an hour. Strain the water into a small container and add the witch hazel or apple cider vinegar. Use this as a toner.
This should keep, refrigerated, for at least two weeks.
Fennel and Olive Oil Salt Scrub
2 Tbsp finely chopped fresh fennel leaves
1/2 c. olive oil
1/2 c. fine sea salt
You can do this two ways: If you're short on time and really want to try this immediately, place the fennel leaves and olive oil in a small pot. Heat on low (you don't want to cook the leaves and olive oil, just infuse the olive oil with the fennel goodness) for 20-30 minutes. Strain the fennel leaves from the olive oil (or leave them in if you want extra fennel and don't mind a little more rinsing time in the shower) and add the oil to the salt. Stir well and allow to cool before using in the shower.
Or, if you want fennel-infused olive oil that you can cook with AND use to beautify, just place the fennel leaves and olive oil in a jar. Shake well. Place in a cool, dark place for 2 weeks, shaking every day. Strain the fennel leaves from the olive oil when you're ready to use it (or just leave 'em in). Prepare as above.
I did BOTH of these things tonight, to get me in the fennelly mood – and boy do I feel refreshed and soft and all sorts of goodness.
Fennel's a GREAT date, if I do say so myself. Which brings us to what fennel is here to do for you.
WIN THIS MARK POULIN ORIGINAL NECKLACE!
Kiln-Fired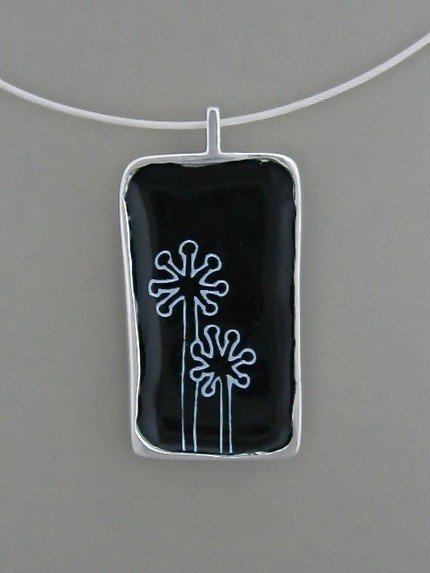 Enam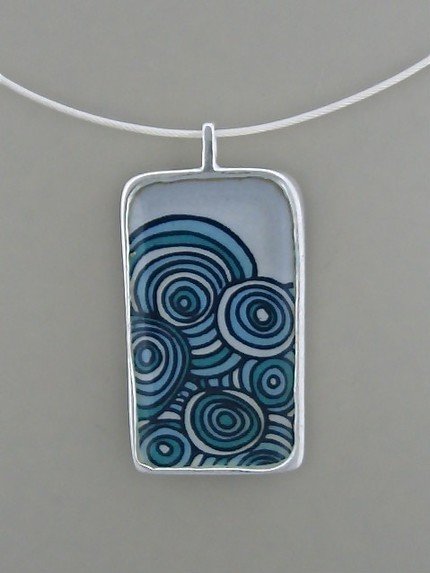 el and Sterling Silver – Stylized fennel flowers on one side, and waves and clouds on the other!
.
Mark is SO talented (and he's been at the jewelry game for 15 years). I recently fell hard for all of his work. And when I saw his fennel flower necklace, I had to find a way to give you even MORE reason to love the fennel.
He wanted YOU to love the fennel, too, so he sent me this necklace to pass on to one lucky lady. And here's your chance to win this handmade Mark Poulin original enamel/sterling silver necklace valued at $55.
And when you wear this necklace, you'll remember fennel.
You'll remember how much it loves you.
You'll remember me.
We just had a really great date, didn't we? Let's do it again sometime.
Before I tell you how to enter, I want to encourage you to go check out Mark Poulin's Website – this only barely scrapes the quirky loveliness of his work. Moms with daughters? You're especially going to LOVE his matching mom/daughter pendants. They melt my heart. I'm thinking about having a daughter, just so I can buy one of those sets.
Now that it's time to kiss goodnight, here's how you can enter to win this memorable, handmade pendant:
Leave a comment using the words "fennel," "pendant" and "crunchy."
For extra credit (which doesn't increase your chances of winning the drawing, but it does increase your chances of winning my heart) check out Mark's site (or his Etsy Shop) and tell me your favorite piece of his jewelry.
I'll start – it's the Aquarius "water bear." I own it now. It makes me cute and quirky, like an Aquarian should be.
This drawing is only available for people in the U.S. or Canada. And it closes at 12:00 p.m. MST on Friday, October 22, 2010. So enter now. NOW! (Winner will be chosen via random.org). One entry per person.
If you forgot what you have to do to enter, here it is again:
Leave a comment using the words "fennel," "pendant" and "crunchy."