Timing is really everything, isn't it?
Were it not for timing, a delicious sequence of events that brought you to a special place in time, you wouldn't have met your significant other or even your best friend. Without the right timing, with your moods and your perspective on life, your favorite book or blog wouldn't have meant nearly as much to you.
Without timing, this fantastic bath candy might not have happened on Crunchy Betty. The exact same day I received two emails requesting a crunchy idea for Valentine's Day, I received my Secret Santa gift from Hilda Blue. Within it contained these magnificent creations (all her idea, straight from her beautiful brain – stop by her blog and tell her thank you)!
I played around with her idea and mixed things up a bit, but it was all her epiphany. Crunchy goddess, that one.
Seriously. I've never seen anything like this anywhere before, and it's brilliant. It's like a sugar/salt scrub and lotion bar all wrapped into one, served in single-size candy-shaped luxury.
And, not surprisingly, these lovely little gems aren't hard to make at all – but they do require … timing.
How to Make Moisturizing Bath Candy
Wait. First, let me tell you again what they are: They're a bit like lotion bars (only they don't use beeswax) and they contain exfoliating ingredients. So when you use them – all over your body – in the shower, it's like doing a little salt or sugar scrub with the added moisturizing from things like cocoa and shea butter.
But you make them in little candy molds (or using foil-covered candy cups like these). They look like candy, but they're not (so don't let the little ones eat them). And one is the perfect size to moisturize and scrub your whole body before it disappears.
I'm going to show you how I made one of my favorites (five different recipes I've tried between yesterday and today) – White Chocolate Rose. But at the end here, I'm going to give you all five ideas to work with. However, please come up with your own combinations, too. THAT is the fun part.
So here's what I used for my White Chocolate Rose Bath Candy: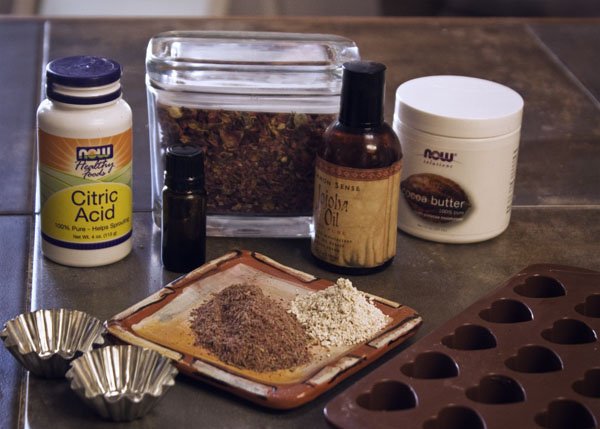 The citric acid isn't necessary if you're using half cocoa butter and half shea butter; I just find that it helps the bath candy break down a little faster if it's pure cocoa butter.
The rest of the ingredients are: Rose essential oil, powdered rosebuds, powdered whole oats, and jojoba oil. (You can get rose essential oil, jojoba, and rosebuds at Mountain Rose Herbs, if you're not sure where else to find them).
First, you'll melt the butter in a fashioned double boiler (or a real double boiler, if you have one). Just heat it enough until it all turns into a liquid. Then add your jojoba oil and stir.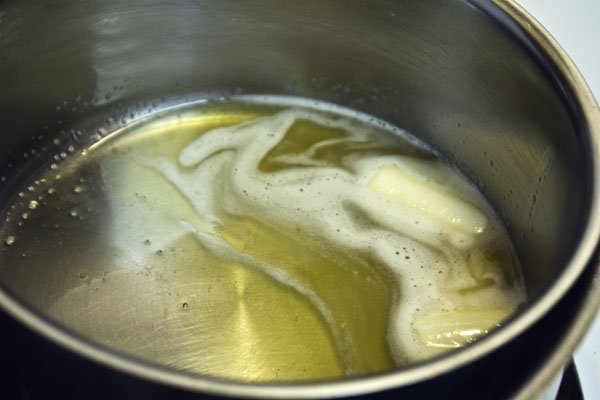 This is also the point at which you'd add your cocoa powder, if you're using a recipe that contains it. Just stir it in and get all the clumps out.
You could lick it if you wanted to, but you probably don't. I don't know. You're kind of weird like that.
Then you remove the pot from the heat and drop in your essential oils and stir. For this recipe, it's about 15 drops. Enough to have a light, wafty rose scent.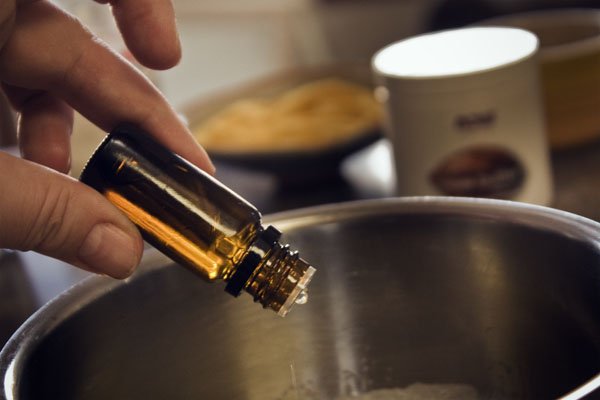 Now, here's where your timing starts to come into play. Everything from here on out will depend on it. Ready?
First, pour HALF of your butter blend into your candy molds. It's important to only use half, or you'll have some sadly uneven bath candy when you're done.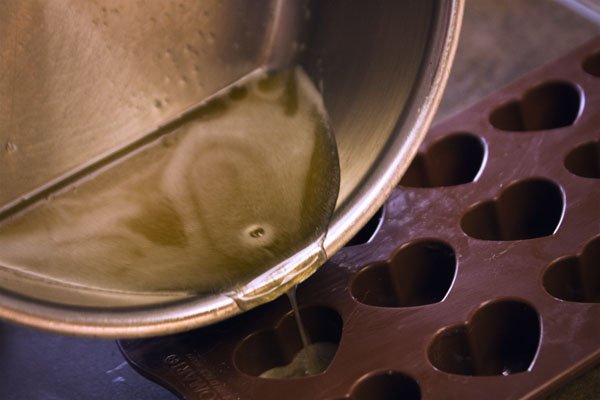 Carefully, carefully move your candy mold from your counter into your freezer.
Did I mention you should have room in your freezer for this? You should. Move the ice cream! By "move it," I mean "eat it."
Let this sit for somewhere between 3-7 minutes, checking on them occasionally. Keep a decent eye on them, because you don't want them to set up and harden completely, just so they're firm enough to hold more ingredients on top.
They'll look a little cloudy, but you'll be able to see the shininess underneath. It will look a little like this: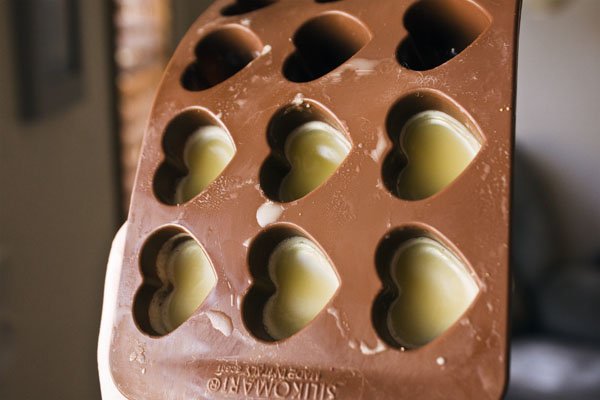 Are you any good at sprinkling? Hope so, because you're going to do a lot of it right now.
If you're using citric acid (because you're only using a hard butter like cocoa butter), take a spoon and pour a bit into the spoon. In a very, very sparse manner, sprinkle a little bit of citric acid over the tops of your half-candies.
I mean VERY sparse. You should probably be able to count the citric acid grains – that's how few you should use. Aim for something like this, or even less.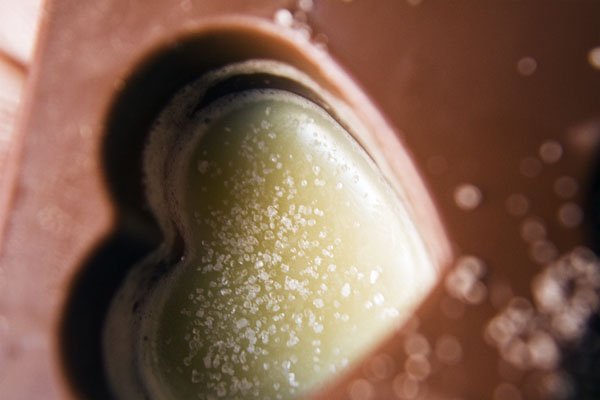 Remember, the more citric acid you use, the faster this will dissolve as you scrub with it. You want a lasting bath candy, so you can get your whole body all mushy soft.
At this point, pinch a bit of your scrubby ingredients – like powdered rosebuds and finely ground oats – and drop pinch-by-pinch on top of your half-candies until you either have a little pile in the middle (if you're really good at pinching and dropping) or a nice little layer of scrubbies.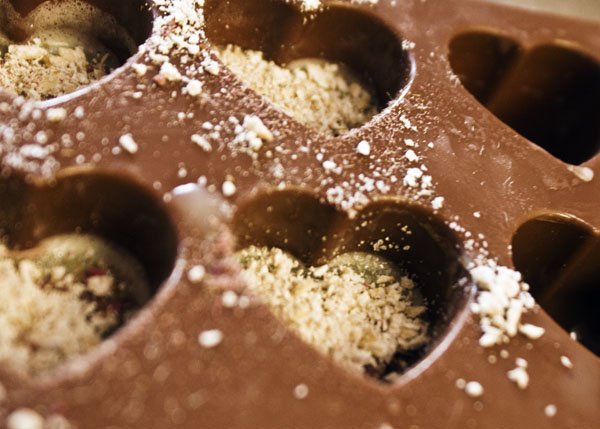 Please note: Your candy molds will not be as messy as mine are, unless you're trying to pinch and dump with one hand while you're taking pictures with the other. You will probably not be doing this. I don't recommend it.
Once you have your little bits of scrubby ingredients inside, just pour over the rest of the cocoa butter mixture on top (reheat it on the double boiler until it's liquid, if necessary).
After that, take a toothpick and just poke little "holes" throughout the bath candies. This helps the liquid and the slightly hardened mixture congeal, so it all sticks together. Don't go all the way to the bottom, unless you're okay with the scrubby ingredients showing on the "top" of the candy when it's done.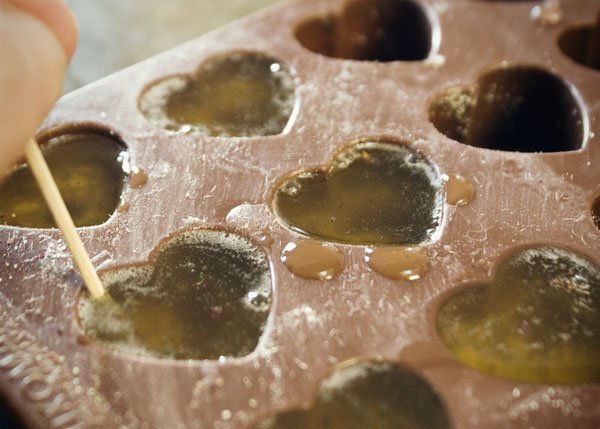 Pop this whole thing back into the freezer and let it sit for as long as your heart desires (probably at least half an hour … UNLESS) … unless you want to sprinkle some decorative topping on it, as shown in some of the finished photos on this post.
If you want to decorate them, just put them back in the freezer for about 3 minutes (or until they're the same consistency as the first time) and then pull them out, sprinkle them with your topping and pat very lightly. Then return it all to the freezer.
After about 30 minutes (or more, depending on how cold your freezer is or how big your molds are), you should be able to just pop 'em out and package them accordingly.
Check it: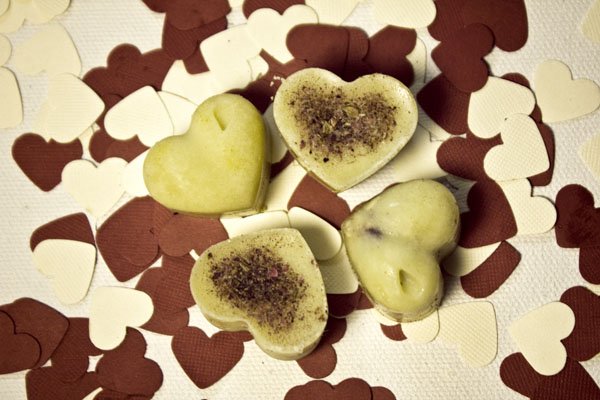 Now, as promised, here are all the recipes for the bath candies I've made over the last two days.
Moisturizing Bath Candy Recipes
Each and every one, in all their glory.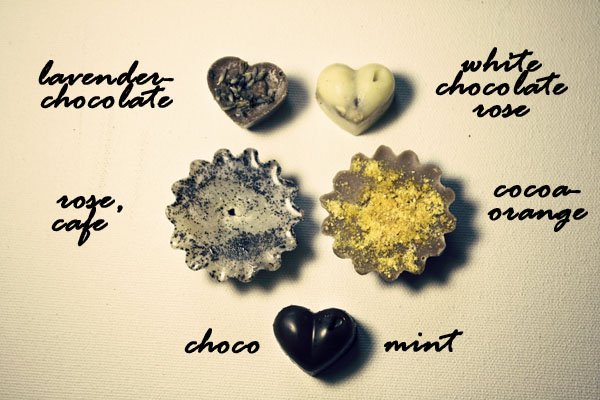 White Chocolate Rose Bath Candies
Lavender-Chocolate Bath Candies
Rose Cafe Bath Candies
Cocoa-Orange Bath Candies
Chocomint Bath Candies
And Here Are The Lovely Bath Candies, Packaged and Ready to Enjoy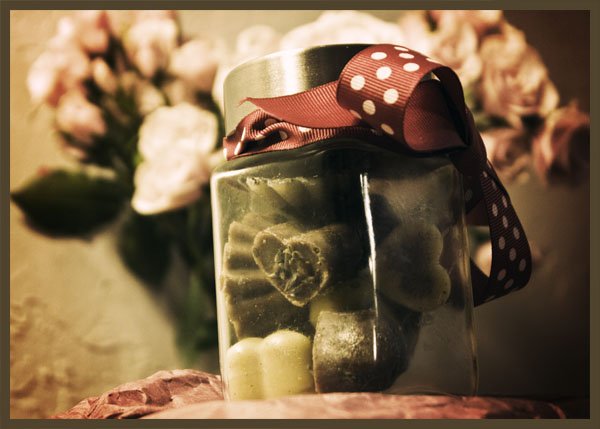 I put several into a glass jar to give away (I still have SO many left, though). This is a pretty way to package, but I am a little concerned that they might stick together if the temperature gets a little warm.
Another great way would be to get a box of chocolates and replace the edible chocolate with the moisturizing bath candies. Then you can either gift the chocolates in a new way or eat them.
Yeah. I think we all know what you're going to do.
What do you think? Feeling … soft and romantic?