Procrastination is a little like candle wax, when you think about it.
One day, you're sitting on the couch and something you need to take care of comes to mind. You think, "I'll do it tomorrow" and the fuse on the candle is lit.
The longer you put off your thing, the more the need to do it melts into your brain. And then there's another thing, and another thing, and another thing – and all the things gloop together in a very immovable blob. Sooner or later, you have procrastination melted all in and around your gray matter, seeping and hardening between the synapses, melding you ever more firmly to the floor. Or the couch. Or the bed.
You look again at the first thing you put off – perhaps it's setting an appointment, or calling a friend, or cleaning the bathroom – and it seems huge and fixed. Impossible to take care of. A monumental stain that, just yesterday, was nothing but a tiny drip you could have wiped up immediately. But now it has an entire day's worth of other things you put off all piled on top of it.
So you stare at the thing for a while, and you hate it. You hide it under the rug and try to find another working solution, but the original mess is still there.
And exactly like real candle wax melted and hardened into your carpet, all you need is a little heat, a little pressure, and willingness to get rid of it forever.
So while we're not going to tackle your procrastination tendencies (we can do that tomorrow or something), maybe learning how frickin' amazingly easy it is to get candle wax out of the carpet will inspire you to apply a little heat and pressure to the other things you've been putting off. (You know, things like getting that candle wax out of the carpet.)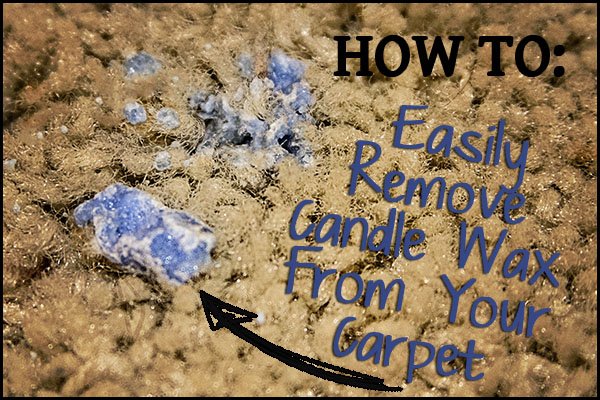 Remove Candle Wax From Your Carpet, Forever, In SECONDS
Last week, after hauling all of our furniture out of our old place, I discovered that blob (above) of candle wax sealed into the carpet.
(By "discovered," I mean "remembered," because I totally procrastinated and forgot about it.)
Visions of our deposit flushing down the toilet flashed through my brain, until I remembered that the internet is full of answers to all the unsolvable problems of the universe. And it turns out, this solution isn't anything new – it's plastered all over the place. But because I hadn't heard of it before now, I thought perhaps some of you might benefit from this magical (and seriously INSTANT) solution that takes care of the problem forever and ever.
And let me tell you something, sisters and brothers, if taking care of everything in your life could be this much fun, we wouldn't even understand what the word procrastination means.
So How Do You Get Candle Wax Out of the Carpet?
Here's what you need (and, yes, this is EVERYTHING YOU NEED):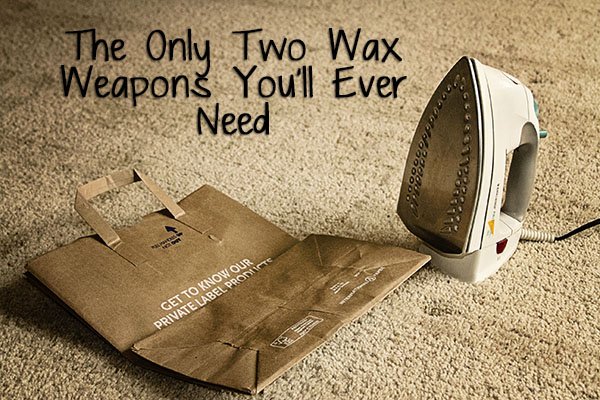 An iron and a paper bag (you could also use a paper towel, I'm sure).
Oh …
You also need hardened candle wax that's melted into your carpet. However, I don't suggest acquiring that unless you absolutely have to. And by "have to," I mean, "accidentally made happen." For as exciting as this cleaning job is, don't purposely melt things into your carpet. Unless you want to. Who am I to judge?
The first thing I did was: I kind of picked at the candle wax and broke it up a bit with my fingernails. This isn't a necessary step. I just did it. And then I vacuumed up the little pieces, until I had a spot that looked like this: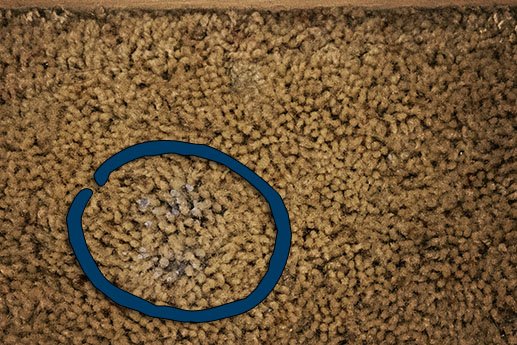 Next, you want to heat up your iron to a very low setting (I set mine on 3) and make sure it's only hot enough to melt the wax, and not the synthetic fibers of your carpet (if your carpet has synthetic fibers).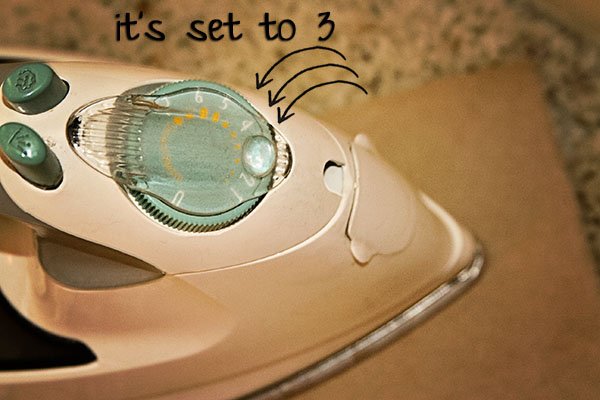 This is also a great time to rip the bag into large-ish pieces until you only have one layer of paper.
Place the single-layer of paper bag over the spot o' wax – making sure you're not ironing in any ink from the bag onto the carpet.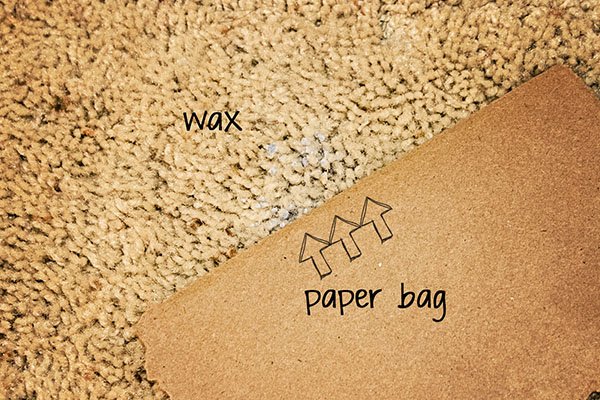 Apply slight pressure over the wax areas – and you'll immediately notice little spots of wax transferring from the carpet to the paper bag.
Don't hold your iron over it for too long. Just little pushes and moves of the bag around the wax works really well.
I got the tingles watching these little spots of wax show up on the backside of the bag. It was magic. I had to take this show on the road.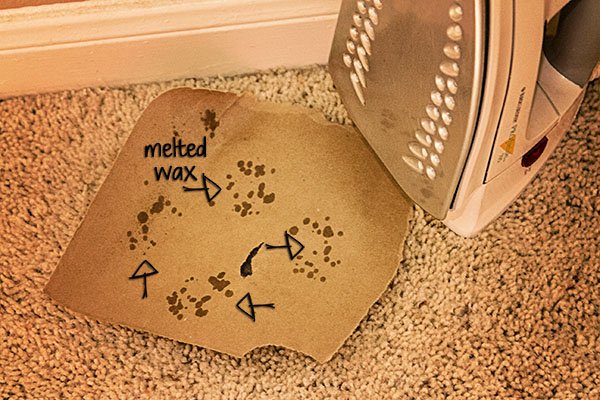 Continue lightly pressing down and moving the iron and paper around the wax area until you no longer see spots showing up. You may need to use several pieces of paper bag to get it all out. I also kind of smushed the carpet down in places to get to the areas where the wax was nearly touching the floor.
The results?
Amazing. Like the wax never even existed. Good as new. Fresh and fancy.
(A little like your mind will be when you take care of the other things you've been putting off, right?)
Play the game with me!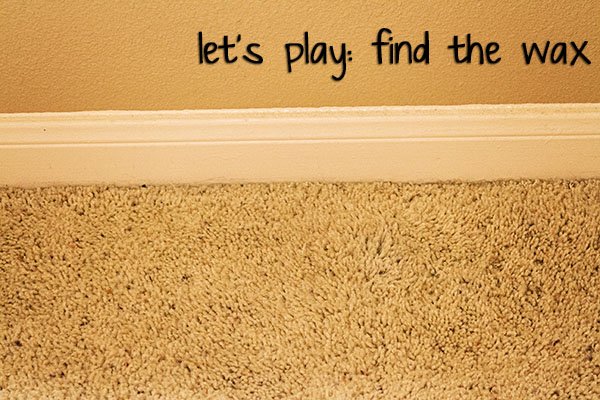 Can you see it? Well, can you?
After I was done, I dragged Skip into the room and made him point to the area where it was. He couldn't do it! And when we walked in with the leasing agent during the final walk through, I held my breath until she said, "Wow! Everything looks just absolutely perfect, Betty." (Also, she said that about the bathrooms which, by the way, I cleaned entirely with vinegar and water, but that's another story.)
SUCCESS – and a slightly silly feeling for putting off cleaning that mess up for such a long time.
So, You See, A Little Heat and a Little Pressure …
… and there's no job too procrastinated that your capable self can't take care of.
So today, I challenge you to take a warm iron and a paper bag to just one – just one – thing in your life that you've been putting off for a while. See if you can't find that magical moment when the wax of worry transfers to the paper bag of doing (you like my metaphors, don't you?).
Even, and especially, if it's getting candle wax out of your carpet.
Go be awesome.