The very first entry in Crunchy Betty's Food On Your Face category was written on May 9, 2010. It was called "Five Good Reasons To Put Food On Your Face."
At the time, I was fumbling around in the world of blogs. I was dipping my proverbial toes in the metaphorical pineapple juice, often for the first time right before I blogged it. Some of you were there with me then. A few of you remember the first header Crunchy Betty ever had.
I can't believe you're still with me …

(Yes, that is it. It was a photo I took of a woman's mannequin head from an antique store in Kansas City. It was weird. I was weird. I am weird. Time to come clean about it.)
I've changed a lot in the last three years. My beliefs have changed. My reasons for doing things have changed.
This hasn't always been easy for me, and I know it hasn't ever been easy for those of you who read the blog. But you're still here (or you're here for the first time, and that's awesome, too).
On August 1, 2010, I asked all 20 of my readers what they thought a Crunchy Betty was.
After I share with you some of my thoughts on what Crunchy Betty is now, where it's been and where it's going, I'm going to ask you similar questions. Your answers – your answers will become PART of what I share tomorrow in Boston.
In the original post, in which we talked about the defining aspects of being a "Crunchy Betty," I said this:
Here are my thoughts – my original and evolving ones – on what constitutes a Crunchy Betty. I know, I know. It was my concept to begin with, but you people amaze me every day, and your input means as much to me as my own flitting ideas.
This has remained true throughout this whole 3-year journey. I am not what makes Crunchy Betty "Crunchy Betty" – you are. The way you experiment bravely. The way you charge ahead with embracing what's natural and true, over what's manufactured and synthetic – even in the face of potential questioning looks (or groans from your husbands). The way you take ideas – not just from me but from a thousand different sources – and run with them and find what works for you.
In truth, without any of your willingness and wonder, I'd just be some crazy lady sitting around with her face in a bowl full of fruit.
So, please, share at the end of this post. I'll give you a specific question or two, but please feel free to say whatever it is that's on your mind. Your input counts (more than mine does).
Where Crunchy Betty Was
As children, everything is an experiment. The way we walk and talk, how we learn to relate to other kids … even the act of smashing pebbles with a hammer becomes a brave and mighty treasure hunt.
When I was 5, I would mix together different shampoos and conditioners, singing and splashing, imagining I was creating a hair dye and suddenly I'd be blonde, or permed, or bald. I was convinced that the right combination of Suave and V05 would produce shocking results. It never did.
Then, at the age of 6, I told my mother I was going to start baking bread. And that's what I did. Several loaves, all by myself, for no rhyme or reason. There's a simple power in shaping a loaf, bringing it to life with your own bare hands. And my little fingers felt that power.
Of course, as we age, we lose that sense of wonderment of our own personal power – we forget the magic in experimenting with what we can do for ourselves. Jobs and bills and television and life get in the way. Experimenting becomes luxury, and then it becomes occasional whimsy, and then it just seems like a waste of time – especially when you can just run down to the store and buy whatever you need before the commercials are over.
When I started Crunchy Betty, it was with that whimsy – that magic of experimentation – in mind. When I began Crunchy Betty, it wasn't about anything other than chatting about life and trying natural recipes and remedies.
Eventually, as more people hopped on board, I realized that this "crunchiness" wasn't just whimsy – it could be a way of life. Most nights were spent falling asleep on a pile of books, while researching and reading about herbalism, aromatherapy, historical remedies, and conscious living. Most days were spent mixing together concoctions and smearing them everywhere – or eating them occasionally.
Many of us went no 'poo, and tried the oil cleansing method. Or we challenged ourselves to smear honey on our faces and loved every second of it. Some of you fell in love with the Mocha Frappuccino Facial Mask, while others preferred fresh fruit facials or hot oil hair treatments. I wrote a book based on everything I'd tried and found success in when it comes to acne and breakouts. We cleaned our houses using ingredients from our cabinets and learned a few tricks with essential oils.
There were undeniable successes, and occasional failures. We laughed a lot, and then we cried. And then we kind of rolled our eyes. And then we laughed again.
Those were the good old days.
But I got off track, personally. What began as fun turned into a crusade in my head (even though I may not have always expressed it). I imagined we had enemies – like corporations and governments and naysayers.
I took a huge bite of the poison apple – the rancid fruit called fear. I began thinking traumatic thoughts about how, if everyone didn't change, things like global warming or pollution or cancer would kill us all. This was an important lesson: Because once you start going down the track of fear, you run yourself off the rails of peace.
What started as fun had turned into an agenda, a dogmatic belief system, a reason to create separation and enemies.
Those thoughts? That's where my personal hypocrisy lived. Everywhere I turned, I couldn't get away from the opposites, the kinks, the imperfections in everything we were doing. I'd read the occasional comments or emails complaining that something wasn't working (even the single complaint, in a sea of successes, would send me into the depths of feeling like a failure). Everything came with a price, even though I was killing myself to find the sweet spots where we'd be free and clear and the world would be roses and kittens forever and ever.
I forgot we lived in a world of imperfection. A world of duality. A world where everything comes with the same price you put on it. If you're rigid and unforgiving, the price will always be astronomical. I forgot that nothing is perfect – not modern medicine or herbal medicine, not natural beauty products or synthetic beauty products … not life. And because nothing is perfect, it's all pretty gosh-darned amazing.
And then I came full circle.
What Crunchy Betty Is Now
From this day forward, I want to steer Crunchy Betty back on the course which it was originally designed to take. Now, though, I understand why I wanted it to be what I wanted it to be. I feel the tingle of the original loooove.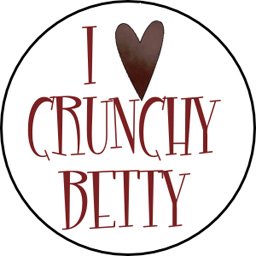 Burn this thought into your memory, because this is my truest, deepest intention.
Crunchy Betty is about experiencing the wonder that comes with personal discovery. The power you feel when you create what you need with your own two hands. It's about journeying back to the intricate simplicity of nature (our nature and nature's nature), as to become more grounded in our daily lives and more attuned to the amazing gifts that are around us at all times. The magic in herbs, in oils, in fruits and veggies, in the air and water, and even occasionally in things that others might consider "bad."
It's about sharing and learning – together. We support and nourish each other, because we know that by doing so, we support and nourish ourselves. And we learn – always, we learn, and I learn along with the rest of you at all times.
(And occasionally, it's just about me. Because, let's face it, I'm hilarious.)
It's about having fun. Having a blast experimenting with nature. And if you're not having fun when you're experimenting, why do it at all?
You'll notice it's not about fear. It's not about changing the world, or saving the world, or taking down the evil corporations, or warning others about poisons and cancer and wrinkles and angry birds. Those things (probably not the angry birds part, but who knows) will change themselves as we all become more grounded, full of awareness of the beauty around us, and recognize the peace we already have available within ourselves.
Those things – I promise – will take care of themselves without us adding fuel to the fire.
And these are a lot of words, so let me tell you where I envision our journey going, in concrete terms, in the future:
There will be more and new homemade beauty, household cleaning, and home remedy recipes (as well as learning more about herbs and foods and essential oils). You will have fun. Or you will not. (You will have fun. The end.)
There will be occasional posts where we talk about our own special brand of personal growth, the things we learn in taking personal responsibility, and how the world changes as we change the way we look at it
How do you feel about the Crunchy Betty videos? (I'm prepared to do more, but only iff'n you want them.)
We'll start talking a little more often about products and things you might want to buy if you don't feel like making them
I will ask you many more questions and your feedback will forever be encouraged, so you will talk – to me and to each other (hey – this ain't no free ride)
Sometimes I will tell you stories, and you will laugh
There will be another book (or perhaps four or five more books)
You will be patient with me, as you always are, because I'm totally going to screw up sometimes (this I can promise you)
The truth is, as Crunchy Betty has grown into a readership of nearly 35,000 people, I've freaked out a bit. When you start realizing that you're talking to a group that's nearly 9 times the population of the town you grew up in, it starts to scare the holy living dingleberries out of you. So I'm going to stop thinking in terms of numbers, and start remembering that I'm talking to friends.
Because, in the end, that's all I've ever wanted Crunchy Betty to be.
A whole bunch of friends, sitting around sipping wine and laughing about the food on our faces.
Now It's Your Turn to Talk – Let Me Have It
It's amazing how, when I sat down to write this whole post, it wasn't going to be directed at you – the reader, the friend. It was just going to be a general story.
This, to me, speaks enormously of how important your participation and input is here (and if you actually read this far, I swear on everything that's holy I have a gold star to send to you).
When I share the general gist of this post tomorrow, the most important part is going to be what you have to say here. So, please, don't hold back.
What one (or two) things about going "crunchy" (or natural) has changed your life for the better? (This doesn't have to have anything to do with Crunchy Betty, btw.)
What have you learned on Crunchy Betty that you'll never forget?
And bonus question: What's your favorite thing about Crunchy Betty? (This is really only for me. I want to know what you love, so I can do more of it.)
Thank you, my crunchistas (and cruncheros). You …
That's all.
Just you.